Energy Futurist Carl Wilkins
This article was originally authored by Janelle Martin and published as part of NCSEA's 2021 series featuring prominent black voices within the Clean Energy Industry. NCSEA is incredibly excited to share Carl's story again to recognize his continued leadership within the clean energy industry.  
Having grown up in a conservative family, the importance of saving things, whether it be food or water, was always a personal value of Carl Wilkins. Conserving energy was no different. This value prompted a natural curiosity for the future for him, and how technology could benefit the lives of communities of color.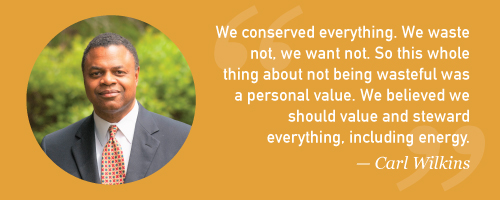 For more than 45 years, Carl has been a prominent leader in clean technology. As the son of a radio technician, it was no surprise that Wilkins began his journey at Wake Tech Community College where he pursued a degree in computer technology. He later went to NC State University where he also attained an electrical engineering degree, one of his proudest accomplishments. But it wasn't until after his 23-year tenure at Carolina Power and Light (now known as Progress Energy) that Carl knew there was more in the field that he desired to explore. 
For 8 years he worked at Advanced Energy as the Director of Utility Services, where he also spearheaded the NC GreenPower program. "I led that effort to create the first statewide multiutility program to promote clean energy to consumers in the country. NC GreenPower was my calling card," says Wilkins. Now as the Vice President of Distribution at Quanta Technology headquartered in Raleigh, he manages a team and several projects focused on helping utilities accomplish energy conservation on a national and international scale. 
Wilkins' impressive resume didn't come without strides. As a minority in a predominantly White industry, Carl admits that when he first started in the field "it was tough to find Black folks doing this." He says, "In this industry, we were always assigned the jobs with the word relations. Human relations or public relations. For anyone of color to get to a certain level you had an exceptional set of skills in the relations area. But you rarely found people of color in engineering or finance." Expediting his success, Carl intentionally volunteered for positions that were difficult to do and used networking within organizations like the American Association of Blacks in Energy (AABE) as a tool for growth. He knew that he wanted to be in the area of creating ideas, job opportunities, and processes—things that would change the way people use and consume energy. 
After four decades, Carl is excited to see the impact his work has had on the industry, and especially the growth in diversity. He says, "I'm really proud of the fact that I'm seeing an industry grow. That's something many people don't get to witness. I'm glad to be at the table as it matures." When asked how he'd like to be remembered as a key contributor of advancing the clean energy economy of our state, he assured us: "I want to be remembered as someone who really believed in this from the beginning. I didn't jump on the bandwagon because it was popular. I believed in this from the time I started my career in the 70s. I always believed this was the right thing to do." 
Carl also believes that the growing success of clean technology predicts an incredibly different yet innovative future. He encourages Black professionals and other minorities who desire to be in this field to focus on areas of STEM when it comes to education, as it offers an instant advantage. For aspiring energy leaders, he advises them to look for problems that can be solved well. Wilkins wholeheartedly believes that "if you are a problem solver and can get things done, there's no limit in what you can do in this space."