E2 Southeast Chapter Webinar
Feb 02, 2022 1:30PM
Location
Online
Categories Non NCSEA Event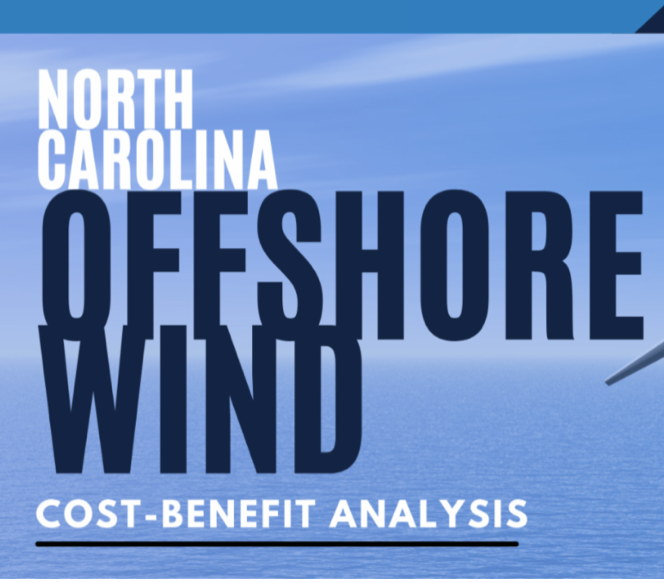 In Partnership with the Southeastern Wind Coalition
A New Frontier for American Energy
The Economic Promise of Offshore Wind for North Carolina

Offshore wind is poised to play a key role in achieving a clean future for the Southeast. With several Southeastern states establishing ambitious climate goals, it's clear that our region must pursue every viable avenue to generate clean power at the scale needed. And given its established success elsewhere in the world, its growing momentum elsewhere in the country, and our conducive coastline, offshore wind can be a vital way to grow our economy while protecting the environment.
But what are offshore wind's fundamental economics, and what could its responsible development in the Southeast mean for our economy and workforce?
Please join E2, the Southeastern Wind Coalition, and a panel of speakers from across the private, public, and non-profit sectors for an in-depth discussion of this new frontier in American renewable energy, including an overview of the recently released North Carolina Offshore Wind Cost-Benefit Analysis, which explores the benefits of offshore wind for our region by evaluating the net economic impacts to North Carolina from a theoretical 2.8GW offshore wind project.
About the Speakers:

Katharine Kollins has been President of the Southeastern Wind Coalition since October 2015. She manages SEWC's programming and operations across 11 states working with a wide variety of stakeholders to promote land-based and offshore wind, wind imports, and the regions' supply chain assets.  Katharine's experience in the wind industry includes working in finance for Boston-based developer First Wind, consulting with Vestas R&D to formulate a federal grant funding strategy, and a role as business development manager for The Wind Alliance. Prior to the Southeastern Wind Coalition, Katharine worked for RTI International where she was the finance lead for two $30M+ divisions. Katharine is a 2009 graduate of Duke's Fuqua School of Business and Nicholas School of the Environment, where she earned her MBA and Master of Environmental Management with a concentration in Energy. 

Hayes Framme oversees state and local government outreach, stakeholder and supply chain engagement, and increasing brand recognition in the Southeast in his current role with Ørsted,helping to power the US economy entirely on green energy. Prior to this role, Hayes served in the administration of former Virginia Governor Terry McAuliffe as Deputy Secretary of Commerce and Trade. Previously, Hayes worked as a Public Affairs Manager for a public affairs firm based in Richmond, in the Economic Research office of a major Virginia company, and as Executive Aide to the Governor in the administration of former Virginia Governor Tim Kaine. Hayes holds a Masters of Business Administration from DePaul University in Chicago, Illinois.  

Jennifer Mundt joined the Department of Commerce as the Assistant Secretary for Clean Energy Economic Development in 2022. In this new role for the Department, she will lead efforts to secure clean energy economic and workforce opportunities for North Carolina, including offshore wind.  Jennifer brings more than 15 years of State service to Commerce. Most recently, she served as the Senior Policy Advisor in the Department of Environmental Quality and prior to that, Jennifer worked for more than a decade as a nonpartisan senior legislative analyst for the North Carolina General Assembly. She earned her master's degree in Public Health from the Gillings School of Global Public Health at the University of North Carolina at Chapel Hill, and is a graduate of the XXVII class of the Leadership North Carolina professional development program.
About E2Environmental Entrepreneurs (E2) a national, nonpartisan group of business leaders, investors, and professionals from every sector of the economy who advocate for smart policies that are good for the economy and good for the environment. Our members have founded or funded more than 2,500 companies, created more than 600,000 jobs, and manage more than $100 billion in venture and private equity capital. For more information, see www.e2.org or follow us on Twitter at @e2org.

About SEWCThe Southeastern Wind Coalition is a 501(c)3 that works to advance the land-based and offshore wind industry in the Southeast. We focus on providing fact-based information on the economic and environmental opportunities of wind energy, and encourage solutions that result in net economic benefits to residents and ratepayers. For more information about the Southeastern Wind Coalition visit www.sewind.org.