House Bill 589 (HB589) was passed in 2017 and was the result of a nine-month stakeholder process and negotiation. It was the first major piece of comprehensive energy legislation passed in North Carolina since SB3 in 2007. NCSEA worked on the initial passage of HB589 and is continuing to work with stakeholders throughout the rulemaking and implementation process. The following sections outline the major provisions of HB589.
COMPETITIVE PROCUREMENT OF RENEWABLE ENERGY
As part of HB589, Duke Energy is required to procure 2,660 MW of renewable energy over a 45-month period through a process known as the Competitive Procurement of Renewable Energy (CPRE). Accion Group has been selected as the Independent Administrator of the CPRE.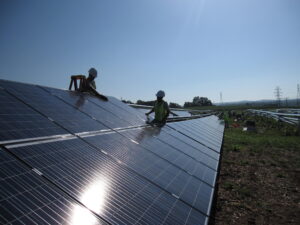 HB589 requires the creation of a program for large businesses, universities, and the military to directly procure renewable energy. HB589 creates a 600 MW program, of which 100 MW is reserved for major military installations and 250 MW is reserved for the UNC system. The NC Utilities Commission ruled on Duke's Green Source Advantage (GSA) proposal in February 2019. NCSEA is disappointed in the approved program, as it does not provide the financial certainty that customers want and will not sufficiently meet the needs of North Carolina businesses and solar developers. Read the final ruling on the NC Utilities Commission's website.
North Carolina's highly-regulated monopoly electricity market limits innovative financing mechanisms that would make clean energy affordable to all. Thus, financing incentives like rebates are needed to encourage customer adoption of clean energy like rooftop solar energy. HB589 requires the creation of a rebate program for 20 MW of rooftop solar installations per year for five years. NCSEA worked with Duke to craft a Solar Rebate Program that would attract potential clean energy adopters waiting for the right time to install solar on their homes and businesses.
Overall, NCSEA is pleased and optimistic with the program approved by the Commission. If properly implemented by Duke Energy, we believe the rebate program will do much to open the rooftop solar market to residential, nonprofit, and business consumers.
Third-party power purchase agreements are prohibited in North Carolina and case law was mixed about whether the leasing of solar installations was allowed. HB589 created a framework for solar leasing in North Carolina, including Commission oversight of lessors and consumer protections.
View the 4 statutes related to HB589 on leasing:
Community solar allows North Carolinians to jointly own a solar facility or subscribe to a portion of a facility's output. Community solar systems can be owned by utilities, solar developers, or directly owned by a group of neighbors or customers. HB589 requires Duke to offer 40 MW of community solar in North Carolina. Participants are compensated at Duke's avoided cost rate for energy generated by their portion of the community solar facility.
HB589 directed the North Carolina Policy Collaboratory at the University of North Carolina at Chapel Hill (Collaboratory) to study the values and services that energy storage can provide to North Carolina and to make policy recommendations. NCSEA's Energy Storage Working Group worked with the Collaboratory to secure private funding to match state funds. The Collaboratory partnered with North Carolina State University to conduct the study, which was reported to the General Assembly and the Energy Policy Council on December 3, 2018. Read NCSEA's review of the final report on our blog.
WIND ENERGY MORATORIUM & STUDY
Right before HB589 was passed into law, the N.C. Senate included an 18-month wind energy moratorium on the issuance of permits for new wind energy projects by the N.C. Department of Environmental Quality or the Coastal Resources Commission and expansive study of wind impact to HB589. NCSEA believes that the moratorium and $150k study were unnecessary, as the U.S. Department of Defense, Federal Aviation Administration (FAA) and nearby military bases already have an extensive review process for all energy development and must approve every proposed wind project. The findings of the wind study, submitted in May 2018, have not yet been made public and the moratorium expired on December 31, 2018.