NCSEA's 2022 End of Year Review
2022 was a big year for North Carolina and the growth of the clean energy sector. We saw an unprecedented amount of federal funding, historic private investment announcements in the state, and a groundswell of momentum created through various executive orders and regulatory actions. The year was a busy one for NCSEA— we expanded our staff to nearly 25 members to cover all of the clean energy happenings taking place at the NC General Assembly, NC Utilities Commission, various state agencies, and at the federal level — and we are excited for 2023, which is shaping up to be an even busier year!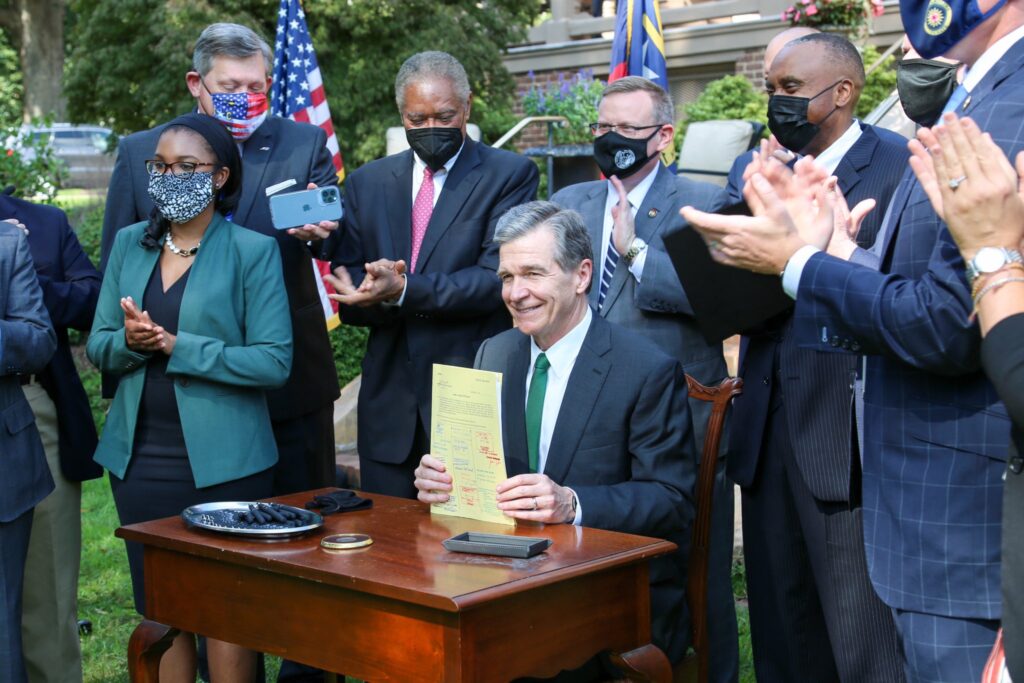 Growing Programmatic Impact
In 2022, NCSEA defined and doubled down on achieving emission reductions, expanding economic opportunities, and intentionally creating an equitable transition across our three program areas— Power, Energy Optimization, and Electric Transportation.
Power: NCSEA aims to enable a 100% clean energy transformation of North Carolina's power sector through law, regulation, and utility and member business models. Some highlights from the past year included:
Energy Optimization: NCSEA remained committed to affordably minimizing energy waste related to the built environment in residential, commercial, and industrial energy end uses in 2022. Energy optimization continues to be an incredibly important area of focus for the organization, as we collaborate with partners in our goal to create as many affordable and healthy homes for residents across the state of North Carolina. Recent wins include: 
Energy Efficiency Advocacy, Education, and Collaboration—NCSEA led the

Tariffed On-Bill (TOB)

Working Group that includes Duke Energy and regional stakeholders. . TOB is a customer-focused program where energy upgrades are capitalized up front by the utility and costs are recovered through a monthly charge on the bill that is less than the energy savings. Both a single-family home retrofit TOB program and a multi-family new construction TOB pilot program were filed at the NCUC in late September. The team also continues to serve a critical role on the Duke Energy Efficiency Collaborative, which is a group of regional stakeholders that collaborate with the utility to review programs and identify clean energy opportunities for low-to-moderate income homes. 

 

Neighborhood Energy Resiliency Project (NERP)—After kicking off the project earlier this year, our team continues to implement this program funded by the Orange County Community Climate Action Grant Program. It focuses on providing home repairs, energy efficiency retrofits, and energy education to residents of a historically

-

disadvantaged neighborhood in Carrboro, NC. The team canvassed neighborhoods, recruited homes for energy services, held energy workshops, and carried out repair services for homes, and will continue these efforts in 2023.

American Rescue Plan Act (ARPA)

: Using funding awarded to NCSEA through ARPA, our team led a project focused on coordinating health and safety repairs and energy efficiency upgrades for low-income North Carolinians. Overall, the team served 15 low-income homes and engaged with 134 households to help residents improve the health, safety, and comfort of their homes while reducing their energy bills and environmental impact.

 

Sustainable Energy Support Hub (SESH)

— NCSEA

continues to develop a dynamic online platform containing clean energy-related data to inform and educate entities who want to better understand the clean energy landscape to benchmark sustainability performance. The platform consists of Geographic Information System (GIS) layers for many aspects of clean energy (residential solar, utility-scale solar, electric vehicle charging stations, Census tracts, broadband, and much more). SESH

provides access to interactive data showcasing the deployment of clean technologies across the state while equipping clean energy stakeholders with the tools to construct transformative and equitable market solutions for the clean energy transition.

 
Electric Transportation: Throughout 2022, NCSEA supported efforts to electrify the transportation sector in North Carolina with the aim of minimizing fossil fuel use in mobility-related activities. We remained active in this space via our network of partners that spans across fleets, governments, universities, state agencies, and non-profits  to advocate for policies that further enable transportation electrification. We also hired our new Program Manager of Transportation Electrification, Allyson Coltrane, who will help to coordinate strategies designed to help achieve the state's electric vehicles (EVs) goals.
 Areas of focus this year included:
Spurring EV Infrastructure & Adoption— NCSEA collaborated with and supported the Office of Governor Roy Cooper and various state agencies as they announced multiple executive orders designed to advance transportation electrification within the state. Executive Order 246 and Executive Order 271 both provide clearly defined milestones to achieve by 2030, including a target of 1.25 million zero emission vehicles (ZEVs) on the road by 2030 and 50% of all in-state new vehicle sales comprised of ZEVs by that same date. In order to achieve those goals, NCSEA has worked closely with the NC Department of Environmental Quality to amplify funding opportunities for new EV charging infrastructure, and with the NC Department of Transportation as they develop a Clean Transportation Plan.
Clean Transportation Plan—As directed by Executive Order 271, the NC Department of Transportation began the process of developing a Clean Transportation Plan earlier this year, with a final plan due in 2023. NCSEA staff have been participating in two of the five working groups associated with plan development - Infrastructure and Light Duty Zero Emission Vehicle.
Freedom to Buy— Over the past couple of years, North Carolina has seen multiple major companies and manufacturers announce robust plans to build out the supply chain of EVs here within the state. Specifically, two of the three largest private sector investments and jobs announcements came in the last year, between Toyota and VinFast. At the same time, Tesla is currently the only automotive manufacturer with the ability to sell directly to the consumer in NC. We plan to push for "Freedom to Buy" legislation with our partners at the Electrification Coalition to further open the market, allowing other manufacturers like Rivian or Arrival to sell vehicles directly to consumers in the state.
Workforce Development—NC Agricultural & Technical State University landed a $23.7 million grant, the largest in its history, earlier this year. Funds from this grant are being used to identify workforce needs for many parts of the clean energy sector, including clean transportation, solar, wind, and grid & storage, with NCSEA managing many aspects of the clean transportation components.
Equity, Diversity, & Inclusion (ED&I): The Board of Directors and staff at NCSEA continue to recognize the need to commit ourselves to an inclusive energy system and clean energy economy that works for all. It's important that this commitment is represented throughout all of our work as an organization both internally and externally.
Expanding NCSEA's commitment to Equity, Diversity, and Inclusion – For NCSEA, ED&I is a core tenant of the organization and our mission. This work began in the mid-2000's with a Board Diversification Plan and led to the creation of a Diversity and Inclusion Initiative Action Plan in 2017. Since then, NCSEA has further committed to expanding our focus on ED&I to incorporate these principles into all aspects of our work, bringing us to where we are today. That commitment was further expanded in 2022 with the hiring of our new ED&I Manager, Jasmine Hayes.
Public Commitments to Equity, Diversity, and Inclusion—To ensure ED&I remains a core focus of the organization and its importance is communicated to our stakeholders, the NCSEA team created an all-new ED&I webpage outlining our efforts within this space. Throughout the year, our team also featured stories via our blog and other communication channels of individuals from a wide range of backgrounds, while also celebrating under-represented groups and their impacts on the clean energy industry.
Women in Clean Energy (WICE)— This NCSEA initiative entered its fifth year, consisting of a growing membership base of over 600 individuals who support our efforts to elevate women in the clean energy industry. WICE does so by providing access to leadership development, mentorship and education opportunities, and networking events across the state. WICE is currently refreshing the mentorship program with formal training from our partner, MentorNC, to invest ourselves in more genuine and diverse relationships around NCSEA's mission, while delivering more inclusive and accessible online engagement. We hosted multiple in-person events over 2022 and plan to continue growing our presence next year.
Engaging with the Community
We were excited to (once again) host and attend in-person events throughout the year. NCSEA provided a platform for strategic planning, information sharing, and connecting with our network across the state via the following events:
March— Transportation electrification panel in Raleigh
May— Carbon plan briefing at Clean Energy in the Mountains in Asheville
June— Continuing legal education (CLE) program in downtown Raleigh
July— Carbon plan update in Winston Salem
August—Offshore wind event in Wilmington
September— Energy efficiency and building performance forum in Durham
October— Making Energy Work Conference in Raleigh
Further, NCSEA produced 18 new episodes of the Squeaky Clean Energy Podcast this year highlighting the top stories in North Carolina's clean energy ecosystem from solar tariffs to HOAs and the Clean Transportation Plan.
The organization also collaborated and published numerous publications and reports throughout the year highlighting the growth and economic advantages of the clean energy sector, including:
The Clean Energy Jobs Report co-authored by E2, which showed a 4 percent increase in clean energy jobs in 2021, double the rate of growth of the state's total workforce. More than 103,000 North Carolinians are now employed by the industry, with the state ranking #1 in the US for rural clean energy jobs, accounting for nearly $20 billion in investments.
Increased NC County Tax Revenue from Solar Development 2022 update demonstrated the economic benefits that solar has in local communities across the state. From 2014-2019, property taxes paid on parcels with utility-scale solar PV across NC systems grew to $12.7 million, compared to $1.4 million before installation, enabling rural counties to find additional revenue to fund municipal services like schools, hospitals, and law enforcement. In addition, the report showed an average property tax increase of 1682% on parcels of land with solar projects compared to previous uses.
NCSEA Energy Data Solutions team utilized the Renewable Energy Database and geographic information system analysis to determine an accurate composition of land use and clean energy across the state. In the recently published NC Solar Land Use and Agriculture study, NCSEA found that a mere 0.12% of total land in the state and 0.28% of agricultural land has been converted to solar generation. This is minimal compared to other uses, such as single-family housing or golf courses and parks, which comprise nearly 10% of all farmland redevelopment activities.
Welcoming New Talent to NCSEA
Staff: NCSEA grew our team over the course of 2022, welcoming many new faces across the organization. New arrivals included:
John Argentati, Data Engineer
Ethan Blumenthal, Regulatory Counsel
Alex Clingman, Policy Communications Specialist
Allyson Coltrane, Program Manager, Transportation Electrification
Michael Fairrington, Government Affairs Manager
Cassie Gavin, Director of Policy
Jasmine Hayes, Equity, Diversity, & Inclusion Manager
Destiny Johnson, Marketing Specialist
Melissa Wilbur, Human Resources Consultant
We also said goodbye to a few of our staff that started exciting new chapters in their careers, including our previous Director of Policy, Peter Ledford, who was appointed North Carolina's new Clean Energy Director by Governor Roy Cooper.
Members: Our coalition of over 400 clean energy businesses and organizations grew in 2022, with nearly ninety new members joining NCSEA from around the nation! Additionally, our 80% membership retention rate once again exceeded that of association standard benchmarks.
We also recognized the following members at our 2022 NCSEA Sustainable Energy Awards reception in October:
Sustainable Energy Businesses of the Year: Sunwealth
Individual Sustainable Energy Leader of the Year: Ethan Blumenthal, Good Solar
Diversity and Inclusion in Sustainable Energy: Laura Combs, Eagle Solar & Light
Women in Clean Energy: Jennifer Weiss, NC DOT
Lifetime Achievement: Peter Ledford, Governor Cooper's Office
Board of Directors Updates:
Vanessa King was elected as the 2022 Chair of NCSEA's Board of Directors, while NCSEA welcomed the following Board Members:
Rubenka Bandyopadhyay, Abt Associates
Tina Clossick, Coastal Credit Union
Hayes Framme, Ørsted
Ken Dulaney, FREEDM Center
Further, the Board held voting for 2023 Board Members. Newly elected members included:
Laura Combs, Eagle Solar & Light
Usman Noor, 8MSolar
Ken Dulaney, NCSU FREEDM Center
Thank you again to all of our members, partners, and donors who made 2022 such a success! We're excited to work with all of you in 2023 to move further towards our goals of decarbonization in the electricity, building, and transportation sectors! Happy holidays!