Celebrating Black History Month: Jason Carney
In honor of Black History Month, NCSEA will post a weekly blog post throughout February to honor the contributions African Americans have made towards advancing the clean energy landscape across the United States.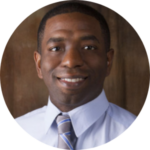 Jason Carney is the founder and CEO of Energy Electives and President of the Tennessee Solar Energy Association. Jason also works to bring solar energy education to communities of color.  
Jason wasn't always aware of the lack of diversity in the clean energy industry. He stumbled upon a 2015 Solar Foundation survey that reported 0.0% of solar energy jobs in Tennessee were held by Black or African American workers.[1] This initially shocked Jason, since at the time he was a PV solar installer in Tennessee, but after some reflection he realized the statistic might not have been as underreported as he originally thought.[1] "Going into [a] boardroom, I'm the only person of color. We go to these conferences, and I'm the only person of color. We go to the U.S. Green Building Council — the local chapter — and of 200 people, it might be me and maybe one other person of color," Jason commented.[1] As of 2019, Jason was the only African American that is certified to design PVs in the Tennessee Valley Authority region. [3] 
Not only are Black and African Americans less likely to work in the solar industry, but they are also less likely to install rooftop solar on their homes. According to a UC Berkley 2019 study, Black- and Hispanic-majority census tracts with the same median household income have installed less rooftop PV compared to no-majority tracts by 69 and 30%, respectively, while White-majority census tracts have installed 21% more. Jason noticed this disparity within his own community. "Just looking when I drive around in communities of color, I don't see [any solar panels]," he said.[3] 
Jason is now actively working to increase the adoption of solar in communities of color through education. In a Southern Alliance for Clean Energy blog Jason writes, "Misunderstanding and lack of information are still holding back the adoption of solar PV, especially in African American communities in the south."[2] He also believes that policy barriers and lack of incentives from the Tennessee Valley Authority contribute to lower rates of solar PV installation in minority communities.[2]  
Jason has started implementing plans to bring solar arrays to minority communities.[3] His first project was near Whites Creek High School where he worked with students to build a solar array that would eventually generate electricity for the school.[3] His goal with this project was to show students of color that there are many types of jobs available in the clean energy industry, and that they are capable of working in these jobs.[3] "It was a student led project...they picked the location, they talked to the contractors, they went to the codes office," Jason described.[3] 
The students also took great pride in working on the project. Van Cleif, a student at Whites Creek High School, worked closely with Jason to complete the project and hopes to continue to work alongside Jason in the future.[4] In an interview with NPR, he credits Jason for his involvement in the project: "He made me want to do this."[4] 
Jason Carney earned a Bachelor of Science degree in Mechanical Engineering from Tennessee State University and a Master of Science in Civic Leadership from Lipscomb University.[1] He currently lives in Nashville, TN with his wife and two children and continues to be an advocate for communities of color in Tennessee.[1] 
Sources 
[1] "About Jason." Energy Electives, energyelectives.com/about-us/about-jason/.  
[2] Carney, Jason. "My Story as the Only African American Certified to Design Solar PV in Tennessee." SACE | Southern Alliance for Clean Energy, 12 Feb. 2019, cleanenergy.org/blog/my-story-jason-carney-solarpv/.  
[3] Hilt, Eric. "Nashville Man Uses Solar Power to Empower Minority Communities." News Channel 5 Nashville, 27 July 2019, www.newschannel5.com/news/nashville-man-uses-solar-power-to-empower-minority-communities?fbclid=IwAR1tsC5f7rCX1jGWQn32SHWiw6wK2LGHeQXcE2lmpP2H76_QsqHa1KKA_Yw.  
[4] Hsu, Andrea. "Stepping Into The Sun: A Mission To Bring Solar Energy To Communities Of Color." NPR, NPR, 23 July 2019, www.npr.org/2019/07/23/741952615/stepping-into-the-sun-a-mission-to-bring-solar-energy-to-communities-of-color.