Dr. Gloria Shealey: Be Bold and Be Brave in the Energy Space 
We recently talked with Dr. Gloria Shealey, President and CEO of The Daniele Company, to learn about her experience with sustainable construction and advice for women in the energy field. This feature is part of NCSEA's celebration of Women's History Month and our ongoing initiative to elevate exemplary individuals across the clean energy community.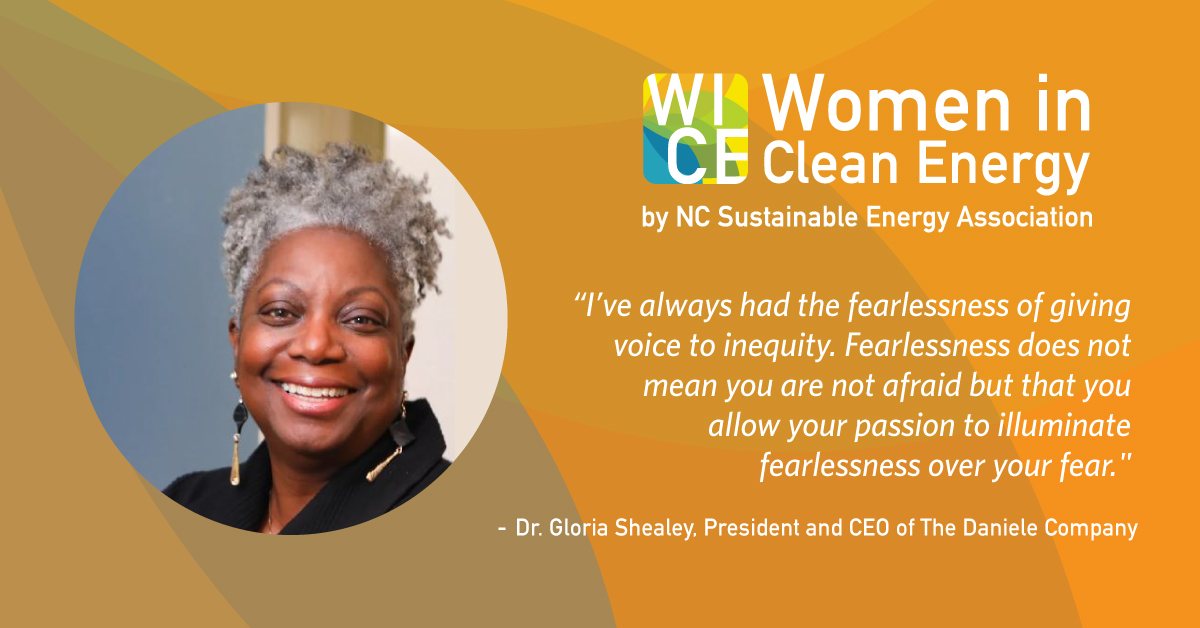 Dr. Gloria Shealey is President and CEO of The Daniele Company, a Durham-based construction management and contracting firm. The company aims to shape communities and improve residents' quality of life by building facilities for education, healthcare, and governmental institutions. As an example of how the company can help communities, they have a few projects building mixed-use buildings that increase affordable housing in NC communities like Durham and Wilson. The Daniele Company also leads energy efficiency through green building.  
Dr. Shealey grew up in Rocky Mount, NC, and is especially passionate about helping North Carolina's communities. A double Tar Heel, Dr. Shealey attended the University of North Carolina at Chapel Hill for her bachelor's degree in political science and master's degree in public administration with a concentration in housing and urban development.  
Constructing a Path in Sustainability 
As Dr. Shealey puts it, she "got the bug for working with the built environment" when beginning her career in commercial real estate finance at a major bank. She found that she enjoyed building and decided to pursue this as her career focus. She went on to found The Daniele Company, which offers services including construction management, general contracting, and program management. The company has managed several building projects in the state, such as new K-12 schools in Wake County and new buildings at various colleges like UNC-Chapel Hill. She assesses clients' needs to manage construction projects that are both environmentally sustainable and contribute to the health and wellness of the community. With this endeavor, Dr. Shealey loves being able to transform the ground to improve people's lives.  
Her attention turned to sustainability at a conference about 10 years ago. While already running The Daniele Company, Dr. Shealey was head of the National Association of Minority Contractors, the oldest and largest national organization serving the construction industry. The organization hosted a national conference with a keynote speaker who worked in energy, green building, and energy efficiency of existing buildings. The speaker, Dr. Denise Fairchild, was the inaugural leader of the Emerald Cities Collaborative (ECC), "a national nonprofit network of organizations working together to advance a sustainable environment while creating sustainable, just and inclusive economies with opportunities for all." Hearing about this organization from the speaker eventually led Dr. Shealey to join the board of the ECC, which she is still on today.  
Dr. Shealey said that Dr. Fairchild has been a major inspiration to her work in sustainability. Dr. Fairchild's ability to grow the ECC and bring diverse voices from underserved communities into the sustainability and energy efficiency conversations has been impressive to Dr. Shealey.  
Prior to learning about the ECC, Dr. Shealey saw the growth of the green energy efficiency economy and became a LEED Accredited Professional (LEED AP), a certification of one's expertise in green building. However, the ECC was an awakening for her around sustainability more broadly. In fact, the ECC helped to draw the connection between clean energy and the construction industry for Dr. Shealey.  
Initially, most of her company's sustainability work focused on waste management and recycling but has grown to creating a sustainable supply chain. Dr. Shealey said that sustainability starts with the efficiency of buildings as well as systems, like mechanical, electrical, and plumbing. "We get to see that change and be part of applying new technologies for the built environment," she shared.  
Moreover, Dr. Shealey said that her value of sustainability comes from her personal passion for health, which is connected to environmental justice. She explained that our air and water quality affect our health, so we must protect these resources and ensure healthy air and water for all.  
"Health is also wealth, because your ability to be healthy allows you the ability to serve others," she explained.  
Dr. Shealey also said that she is oriented toward not being wasteful but rather being intentional and purposeful in how we use resources. This mindset leads her to prioritize sustainability in construction.  
Be Bold and Be Brave 
Dr. Shealey shared that character and mindset have been key to her success as a Black woman working in an industry dominated by white men.  
For character, she boldly stands up for others, something she has done since she was a child. Dr. Shealey has continued to speak her mind in her career by sharing her voice even when no one else in the room looks like her. She shares her ideas even if she does not know how others will react.  
Dr. Shealey espoused the importance of being willing to take the risk of being vulnerable and sharing your thoughts with others – as long as you are prepared and thoughtful about what you say. She said you should be comfortable with who you are and bring your whole self into situations. "Be bold and be brave," she said. "I've always had the fearlessness of giving voice to inequity. Fearlessness does not mean you are not afraid but that you allow your passion to illuminate fearlessness over your fear," she continued.  
She said she feels blessed to have grown up with a family supportive of her following her goals and using her voice. "No one's ever told me that I could not," she said. However, she knows many people are not that fortunate. 
Regarding mindset, Dr. Shealey said she comes into every situation overprepared. Knowing her information, being professional, and understanding the construction industry have allowed her to command respect. She said practice and awareness have helped her learn how to respond to audiences when engaging with different groups of people.  
Ultimately, Dr. Shealey said people should search for their passion and take steps to find the areas they want to pursue in their careers. We are thankful Dr. Shealey has found a passion in green construction, improving communities in North Carolina and beyond.