Dr. Henry McKoy: Soaring Toward an Equitable Future 
NCSEA is excited to feature Dr. Henry McKoy, Director of the Office of State and Community Energy Programs at the United States Department of Energy. This feature is part of NCSEA's ongoing focus on elevating exemplary members of the clean energy community.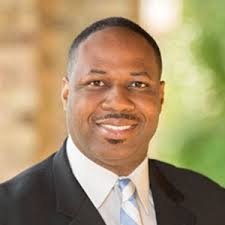 A Career Path Focused on Community Impact 
Dr. Henry McKoy grew up in Fayetteville, North Carolina, spending time outside appreciating the natural world. He attended the University of North Carolina at Chapel Hill as a first-generation student and studied business administration.  
During this point of his life, he was grappling with identifying a career that allowed him to help people while impacting the world for the better. Along this journey, he began to notice the importance of energy and environmental conservation to ensure the wellbeing of frontline communities across the country. These observations led him to consider a career path centered around energy, climate resiliency, and communities experiencing the impacts of climate change. Being from a low- to moderate- income community himself, Dr. McKoy also realized that energy production and waste management disproportionately harm those with the least resources.  
Upon graduation, Dr. McKoy embarked on a path to uplift historically disadvantaged communities. He has held a diverse set of positions that have all helped to inform his work now within the U.S. Department of Energy (DOE). In particular, he's worked in banking and served as the Assistant Secretary of Commerce under the Perdue Administration through which he engaged in community economic development planning and managed projects focused on energy and sustainability. Additionally, Dr. McKoy has taught business at universities including North Carolina Central University, the University of North Carolina at Chapel Hill, and Harvard University. He continues to be an active member of the clean energy community through his role at the DOE and has also previously served on NCSEA's Board. 
"Energy has been a connective tissue and a byproduct of how my passion can help communities," he said.   
Executing a Vision for Energy in North Carolina and Beyond 
Dr. McKoy believes that North Carolina is a state small enough for effective collaboration with diverse groups of stakeholders but large enough for these decisions to make an impact. For instance, the state's Renewable Energy Portfolio Standard (REPS), adopted in 2007, propelled North Carolina into becoming a national leader in installed solar capacity. More recently, House Bill 951 has opened a pathway for deep decarbonization across the electricity sector with its emission reduction mandates (70 percent by 2030 and carbon neutrality by 2050).  
"As we move forward in this effort to create a more equitable society, it is important that all communities are thought about and at the table. Historically, the Black community has been left behind and has suffered from the externalities of fossil fuel energy," he explained. As an example of this suffering, Dr. McKoy pointed to Black children developing asthma from toxic chemicals released by burning fossil fuels. Decision-makers must engage with communities to inform policies that are inclusive. 
On a larger scale, the Bipartisan Infrastructure Law (IIJA), passed in November 2021, led to the creation of a new infrastructure office in the DOE, Office of the Under Secretary for Infrastructure. This new office contains the office Dr. McKoy now leads – the Office of State and Community Energy Programs. The goal of the office is to move the focus of DOE from heavy research and development to an entity that is integrated into communities across the country.  
His office is strategizing areas of need to focus its $16 billion budget based on the schedule set by Congress. He manages funding allocation and frequently travels to different communities to talk with members and educate them on energy initiatives. With so many stakeholders in the energy space, Dr. McKoy said, "it's critical that we think about the energy transition from a very holistic standpoint." 
Equity, Diversity, and Inclusion in the Clean Energy Transition 
The transition to clean energy can create significant economic opportunity and job growth, said Dr. McKoy, and he wants to ensure that these benefits reach all people. He also stressed that it is imperative to be forward-thinking in the planning process to avoid leaving historically disadvantaged communities even further behind.  
Dr. McKoy emphasized that part of the job creation conversation must include entrepreneurship because those who own businesses decide which individuals get hired. Hiring individuals from communities of color and historically disadvantaged communities in the energy space can create a lasting impact spanning multiple generations.   
Additionally, Dr. McKoy does not support green gentrification, when implementing environmentally friendly practices raises home values and makes people who have historically lived in an area unable to afford to live there. He explained that programs using government money for energy efficiency must implement improvements that reduce energy burdens while not forcing out current residents.  
Creating Equity Through the Core, Door, More, and Soar Framework 
Towards the end of our conversation, Dr. McKoy shared a framework for creating equity: Core, Door, More, and Soar. He asks, how do we meet the core responsibilities charged to us from Congress? How do we create a front door that allows people to come to us and tell us what they need? With that, how do we enter the doors of communities to learn how to meet their needs? How do we do more when working across teams and groups to create large-scale success? And how do we soar beyond our imagination and dream big to achieve great things?  
Dr. McKoy plans to keep using this framework as he leads his team. In doing so, he hopes to enable the DOE to be efficient, effective, impactful, and equitable. We look forward to seeing Dr. McKoy continue to soar as he builds a just energy future for communities across the nation.