Dr. Tony Reames: Remaining Optimistic About Energy Justice
NCSEA is excited to feature Dr. Tony Reames, Deputy Director for Energy Justice at the U.S. Department of Energy. Dr. Reames was appointed to this position in the Office of Energy Justice Policy and Analysis in the Office of Economic Impact and Diversity by the Biden Administration in June 2021. He is responsible for developing a research and policy agenda around understanding energy burdens on low-income communities and communities of color, as well as implementation of the Justice40 Initiative, ensuring that activities across the agency benefit disadvantaged communities. This feature is part of NCSEA's celebration of Black History Month and our ongoing focus on elevating exemplary leaders in the clean energy community.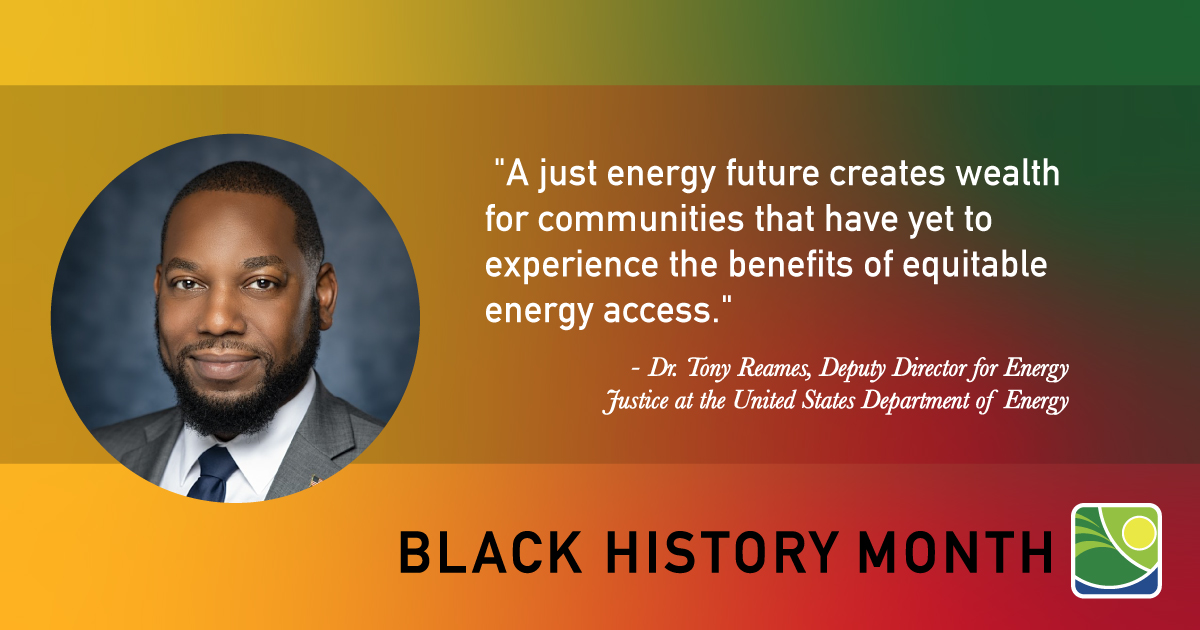 Plugging into the Energy Field
Growing up in rural South Carolina, in a community home to the state's largest landfill, Dr. Tony Reames was exposed to the inequities of environmental injustice at a young age. The experience of seeing the impacts this facility had on neighbors sparked a passion for environmental justice that would guide Dr. Reames' career for years to come.
His equity and justice path continued as he studied civil engineering just north at NC A&T State University, where Reames was surrounded by civil rights history. Down the road was the diner where the Greensboro Four launched a sit-in movement around the nation.
And not far down the road from Greensboro is Warren County - home to the birthplace of the environmental justice movement.
Given that North Carolina was the first place Dr. Reames lived outside of his home state of South Carolina, he views NC as a second home, finding the environmental justice connections impactful to his own career growth and trajectory. "These two critical components, the Greensboro Four and launch of the environmental justice movement, have driven me in how I approach life and the work I do," he shared.
While working as a civil engineer, Dr. Reames focused on water and transportation. His career turned to energy when he was working on his PhD at the University of Kansas. At this time in 2009, the Obama Administration had just signed the American Recovery and Reinvestment Act (ARRA). It focused on sustainability and increased funding for the Weatherization Assistance Program (WAP), a low-income energy efficiency program. Dr. Reames knew there was a connection between the location of houses and access to energy but decided to study the correlation to better understand how to make an impact. He also saw the federal funding as an opportunity to increase equity.
Today, the federal government is again delegating funding to energy justice through the Bipartisan Infrastructure Law and Inflation Reduction Act. Dr. Reames explained that with the federal government providing hundreds of billions of dollars toward clean energy, it is important to integrate justice at the beginning of program design – and that is exactly the focus of his role at the Department of Energy.
Emphasizing Representation in Energy
Dr. Reames shared in his conversations with NCSEA that a crucial factor of energy justice is expanding representation of people across various backgrounds and races. Additionally, as a means to increase representation in the workforce, he explained that universities and colleges, especially Historically Black Colleges and Universities (HBCUs), can train students for the clean energy jobs of the future. He added that some nonprofits also help historically marginalized groups prepare for jobs in the energy field. This way, as he put it, "We can create an ecosystem that builds the pipeline from the skilled trades jobs all the way up to the C-Suite jobs." The US Department of Energy has a strong focus on building a clean energy workforce that looks like America through its new Office of Diversity, Inclusion, Equity, and Accessibility and its Clean Energy Corps hiring initiative, according to Dr. Tony Reames.
Dr. Reames shared an experience from his doctoral research to illustrate why diversity is important. It involved a program designed to help households in Kansas City, Missouri, learn about funding for energy efficiency. As part of the initiative, local university students, who were mostly white, went door-to-door in a majority African American community to share information about the available funding. The initiative experienced some challenges due to a lack of trust by the community. The program then paired students with local residents and found that households were much more open to talking about energy efficiency and how they could receive energy efficiency upgrades in their homes. "That was one of the clearest examples of how representation can increase access and participation," said Dr. Reames. This lesson can also help increase participation of historically underrepresented communities in the energy transition— be that purchasing an electric vehicle or applying for a job in clean energy.
An Optimistic Outlook
Dr. Reames believes that it is possible to make energy access equitable in the United States, and he's dedicated his career to this goal. "A just energy future creates wealth for communities that have yet to experience the benefits of equitable energy access," he said.
Thinking back to one of the places that inspired this direction, Dr. Reames shared opportunities for North Carolina to expand the focus on energy justice. He said the community aspect is key. His idea is for the state to develop a five-year clean energy "capital improvement plan," drawing on the way he created such plans as a civil engineer. The plan would focus on energy efficiency retrofits and electrification for low- and moderate-income households and should detail the steps taken each year for five years until every home receives the weatherization services it needs.
In his role at the US Department of Energy (DOE), he also foresees opportunities for the department to deploy additional clean energy infrastructure in disadvantaged communities." For instance, Dr. Reames believes that integrating more renewable energy and battery storage into communities who suffer from energy outages after natural disasters would help them be more resilient to climate risk.
Dr. Reames has already seen change, with conversations around equity in clean energy increasing, as he put it, "100-fold" since entering the field. To continue this trajectory, he sees the importance of empowering people to reach out to elected officials to influence energy policy and justice.
Today, policy change is paving the way for increasing equity. Dr. Reames said the Inflation Reduction Act is "a major opportunity to spend government resources in a way that addresses disparities while supporting economic growth."
Looking forward, Dr. Reames is most excited about his office developing a strategy to address energy poverty. His team is at work studying communities that face energy poverty to more effectively form comprehensive strategies to address the issue.
He's optimistic about the DOE's ability to tackle the issue of energy poverty, given the agency's years of recognizing the intersection of energy and race. While there is certainly room for improvement, Dr. Reames pointed out that the DOE (founded in 1977) demonstrated a commitment to equity by establishing the Office of Minority Economic Impact (now Office of Economic Impact and Diversity) just a year later in 1978.
To carry out this incredibly important work, Dr. Reames is guided by numerous leaders and scholars of the environmental justice movement that inspire him every day. For instance, Drs. Beverly Wright, Robert Bullard, Dorceta Taylor, Paul Mohai, and Bunyan Bryant are leaders that he shares have each charted a path to addressing energy and environmental injustices that inform him along the way. He looks forward to seeing driven individuals join the movement to elevate energy justice efforts that can transform communities and change lives.