Habitat for Humanity Stays in the Habit of Energy Efficiency
This blog was collaboratively authored by Sydney Fox and Jessica Reid. 
Habitat for Humanity is a nonprofit organization known for building and retrofitting homes for income-qualified families in need. With a primary focus on new affordable home construction and home preservation, the organization is committed to building a sustainable and equitable future for communities. We had the pleasure of speaking with Habitat for Humanity of Wake County's Director of Advocacy Jacquie Ayala, Vice President of Construction Operations Brad McHugh, and Communications Content Specialist Chloe McNeal to learn more about the organization's energy efficiency work.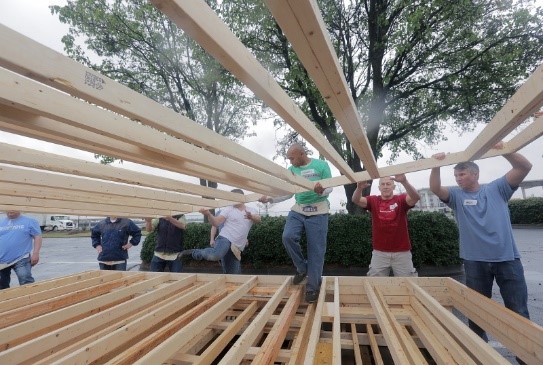 The Essence of Habitat for Humanity's Mission
Habitat for Humanity aims to ensure that all area residents have an affordable place to live. They do this through building high-quality, efficient, and affordable homes and doing preservation work on existing Habitat homes. Additionally, the organization runs thrift stores called ReStores.
New affordable home construction: Working with families in need, Habitat helps secure affordable financing and collaborates with the families throughout the construction process to build their new homes. The organization provides families with education on topics like financial literacy and budgeting to help them make financial decisions when purchasing a home. Habitat strives to build homes that are sustainable and energy efficient from the start.
Home preservation: In addition to new construction, the organization also extends support to existing income-qualified homeowners of Habitat homes in need of low or no-cost repairs for their homes. They partner with other groups and organizations to address the specific health, safety, and energy efficiency needs of these homeowners.
ReStores: Habitat's ReStores play a significant role in their sustainability efforts. People can donate gently used goods that Habitat sells at discounted prices to area residents. Habitat puts the money toward housing projects. McNeal said the ReStores divert an estimated 5,000 tons of waste from landfills annually.
Main Initiatives in Energy Efficiency and Home Features
When building new construction, Habitat is intentional about their homes' design and features to maximize efficiency and keep utility bills low for the homeowners. They use advanced framing techniques for maximum insulation benefits. Furthermore, Habitat uses condition-sealed crawl spaces, which reduce moisture and improve air quality in homes. Additionally, they invest in energy-efficient features and appliances, including high-performance HVAC systems.
When constructing new homes, they also partner with Advanced Energy's Systems Vision program, which assesses a home and provides a third-party energy guarantee so homeowners can be confident that their homes are energy efficient.
Additionally, Habitat's home preservation efforts for existing homes help low-income individuals access high-quality appliances and encourage the use of more-efficient alternatives.
When doing home preservation, Habitat works in a coalition with other groups. "Coordinating with other assistance programs out there allows us to serve homeowners better and make repairs go further. It allows us to use weatherization money to serve families holistically and improve their health and safety," explained Ayala.
Even with fluctuating supply chains and economic downturns, Habitat remains committed to sustainability. They aspire to leverage federal incentives for solar and energy efficiency projects, hoping to access funding from the IRA and the Bipartisan Infrastructure Law to facilitate affordable housing solutions.
Benefits: Equity and Resilience
McHugh explained that the impact of Habitat's efforts is evident through heartfelt thank-you letters received from families. By providing essential repairs, such as new roofs and weatherization services after natural disasters, the organization empowers families to remain in their homes and overcome challenges that arise.
Habitat's homes are contributing to community resilience by increasing access to affordable housing and shelter. In fact, Ayala transitioned from working in a sustainability focused position to affordable housing after recognizing the importance of local communities' resilience in the face of increasingly frequent and severe natural disasters.
Advocacy for Affordable, Energy-Efficient Housing
Habitat takes a broader approach to their mission by engaging in advocacy work to address affordable housing challenges occurring throughout the communities they operate within. This advocacy seeks to bring about positive changes for communities and individuals facing housing difficulties.
A partnership with NCSEA has been valuable for Habitat. The expertise and guidance provided by NCSEA enhances Habitat's impact by enabling them to engage more effectively at the state level and stay informed about pertinent energy-related bills. Such partnerships are crucial in navigating the complexities of energy issues affecting affordable housing. Habitat requires a professional knowledge base, dedicated volunteers, funding support, and advocacy for policy changes to further their mission; NCSEA offers key assistance through advocacy support.
A Lasting Impact
Habitat's commitment to energy efficiency and sustainable housing is a testament to the transformative power of advocacy and community-driven initiatives. With dedicated professionals like Jacquie Ayala, Chloe McNeal, and Brad McHugh, the organization continues to pave the way for a brighter, more equitable future, where affordable housing and energy efficiency go hand in hand to uplift communities and empower families in need. Community members can support Habitat by donating, volunteering, at shopping at ReStores. Through collaboration with NCSEA and like-minded partners, Habitat is poised to make an even greater impact and create lasting positive change in the affordable housing sector.