Member Feature: Enel X Way Takes Charge of a Clean Transportation Future
This blog was coauthored by NCSEA and Enel X Way.
Enel X Way is a subsidiary company of Fortune 200 renewable energy leader, the Enel Group, and is dedicated to electric mobility. Enel X Way, an NCSEA member, operates in 16 countries and manages over 500,000 public and private charging ports worldwide. Learn how they are transforming clean transportation in North Carolina and beyond. Plus, make sure to see their offer for a discounted smart home EV charger at the bottom of this page!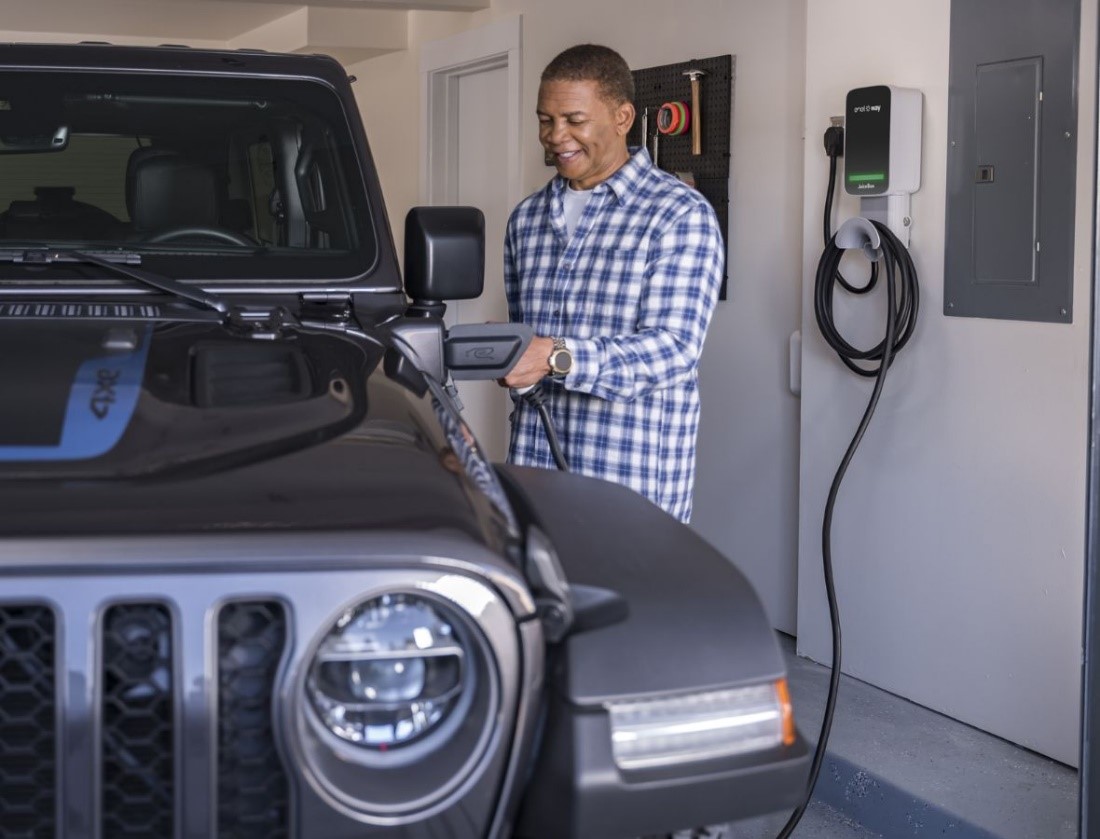 As we continue to transition to more electric vehicles (EVs), charging infrastructure is a must. Enel X Way is leading the way through their smart charging technology. The company manages over 185,000 charging ports in North America, both directly and through roaming agreements and joint ventures. Enel X Way's flagship home charging station, the JuiceBox, has been named the "best EV charger overall" by CNET, Car and Driver, Popular Mechanics, and Road & Track.
Enel X Way's EV Charging Goals
Enel X Way's mission is to accelerate smart electric mobility solutions for all with their line of home and commercial charging products. As demand for renewable energy grows to power the world's electric vehicles, smart EV charging is critical to economically and sustainably update our energy and transportation systems. By utilizing grid-connected charging stations as flexible energy services, the company can help meet the needs of today's EV drivers and provide vital infrastructure needed to meet ambitious sustainability goals across North America.
Building on its success with serving the home and commercial charging segments, the company has committed to deploying over two million charge ports in North America by 2030 across home, commercial, and public charging. This target includes more than 10,000 DC public charging stations in support of the United States' goal of having 50% of new vehicle sales be electric by 2030 and the National Electric Vehicle Incentive (NEVI) Formula Program. To accelerate deployment and provide customers with a centralized source for their EV charging needs, Enel X Way is providing turnkey installation, operations and maintenance (O&M), and financing services.
Taking an integrated approach to meet energy needs: The Enel energy solution suite encompasses a wide range of on-site and off-site solutions. When addressing an organization's specific needs, they take an integrated approach and leverage a variety of solutions to meet customers where they currently are in the energy transition – and help them get where they need to go. Enel X Way said it is important to think of the energy transition holistically; they must integrate a variety of solutions and understand how they work together for maximum impact. For instance, earning payments through demand response programs by reducing consumption during times of grid stress is a great way to reduce energy spent and generate revenue. However, a consumer can take demand response to the next level by deploying energy storage to automate optimal charging and discharging schedules – maximizing financial performance.
Assets like energy storage and solar are proving instrumental for EV charging as well, helping to manage the demand for electricity and reduce grid load during peak hours. Solar panels generate clean electricity to power EV charging stations during daylight hours, reducing the amount of electricity drawn from the grid. Storage assets can then hold excess solar energy and discharge it when demand on the grid is high. This combination of integrated energy assets can reduce the impact of fast charging on the grid and prevent blackouts.
Envisioning the future through technology and policy: Enel X Way understands that a successful energy transition ensures that clean energy and mobility are accessible, convenient and affordable. Solutions should bring together stakeholders to build sufficient infrastructure to support these consumers as they begin to adopt EVs on a mass scale. Solar and wind generation are intermittent, so maintaining a cost-effective balanced grid by matching electricity supply and demand is essential. As more EVs are added to city streets, charging stations become distributed data hubs for understanding charging behavior, how energy resources are being used, and how to optimize usage. With JuiceNet Green, drivers can charge cleaner when solar and wind energy is high and fossil-fuel sources are low.
The organization has national policy goals to accelerate the clean energy transition. They aim to encourage state governments to establish electric vehicle supply equipment (EVSE) adoption targets and incentives to achieve those goals. Next, they aim to help develop local and statewide permitting and siting policies that would expedite the time to receive a permit and the conditions that can be placed upon EVSE installation. Enel X Way also strives to create timeframes by which decisions will need to be made to prevent permitting processes that last months without progress. Achieving these goals would make private and public charging easier and faster to deploy, ultimately speeding up infrastructure and EV adoption. Moreover, Enel X Way's public charging goal is to encourage state and local governments to include EV public charging at their facilities and help them add the necessary infrastructure.
Collaborating with Partners in the Southeast
Enel X Way is able to achieve its policy objectives by working with their committed trade association partners, including the Electric Drive Transportation Association, Advanced Energy United, and American Clean Power. Their team works with utilities and commercial and industrial customers to deploy clean energy solutions that help lower costs and improve electric grid reliability.
In North Carolina specifically, Enel X Way is partnering with NCSEA to make the most of EV infrastructure funding. The state expects to receive up to $109M to build EV infrastructure along its approved corridors in accordance with the NEVI program. In collaboration with NCSEA, Enel X Way aims to influence public policy and market development in the state, accelerating opportunities for electric vehicle deployment and charging, while collaborating with key stakeholders to ensure an equitable and accessible clean energy future for all.
Save $75 on Enel X Way JuiceBox Home EV Charging Stations
In need of a smart home charger? Save $75 on JuiceBox chargers using code "NCSEA" at checkout from now until December 31, 2023!
Button: SHOP NOW
Coupon Code: NCSEA
Expiration Date: 12/31/23
Products Eligible: JuiceBox 32, 40, 48 Plugin and Hardwire
In need of electric vehicle infrastructure at your business? Book a meeting with Enel X Way's sales team.
Thank you to Enel X Way for being a member of NCSEA and accelerating a clean transportation transition! Learn more about the company: https://enelxway.com/us/en