Member Highlight: Ceres Drives Clean Energy Economy and Policy in NC
Collaboratively Authored by Alex Clingman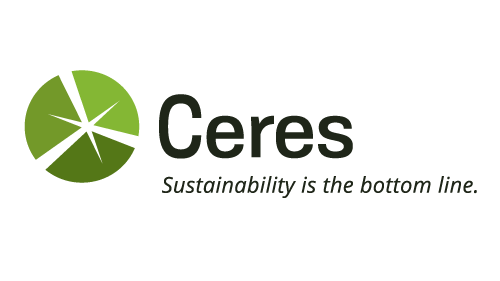 NCSEA spoke with Michael Callan, Mel Mackin, Maren Mahoney, and Adam Vaccaro to learn more about how Ceres is changing the clean energy landscape for investors and companies in North Carolina. Since 1989, Ceres has been a leading force in promoting economic and social change through advocacy of corporate sustainability practices with an increasing emphasis on clean energy policy. And be sure to register for NCSEA's upcoming conference, Making Energy Work (10/25-27), to hear the latest developments in the clean energy space!
Work Rooted in Sustainability
Ceres is a nonprofit organization headquartered in Boston, MA, and San Francisco, CA, that works with leading investors and companies to advocate for sustainable corporate practices and policies throughout its network. Its work helps members reduce their climate impacts and operate more sustainably while also succeeding as businesses. The Ceres team works with companies to accelerate greenhouse gas emissions reductions, water resource protection, and equitable access to resources. In recent years, Ceres' focus on sustainable policies has grown, honing in on issues like climate resilience and global water supplies.  
This focus has been driven in large part by the growing recognition from the corporate community that good business also means doing what's good for the planet. Across the companies that Ceres works with, an ever-growing number have established aggressive clean energy and carbon reduction goals while ensuring they're good stewards within their communities.  
Turning Towards Clean Energy Policy
Policy advocacy came about later down the road in Ceres' history and was not originally a core focus during its inception in the late 1980s. Nowadays, it has become an essential part of the organization, with its team engaging in 14 states across the country.
Mel Mackin, Manager of State Policy within the Southeast at Ceres, explained that the organization's policy efforts started with engagement on Capitol Hill and expanded to include state policy. State engagement was identified as an opportunity to enact positive change within the sustainability sector, especially during the ebbs and flows of various federal administrations over the years.  
She added that the energy landscape within each state is quite nuanced and requires a deep-rooted understanding of the political dynamics along with strong allies and partners on the ground. According to Mackin, "When we engage within North Carolina, we look to companies with strong footprints to be the voices for sustainable policies." In fact, 41 of North Carolina's largest 50 private employers have set targets to increase their use of renewable energy, electric vehicles, energy conservation, and/or GHG reductions. Given their economic footprint within the state, many of these companies have been instrumental in advocating for stronger energy policies and regulation.   
Mackin further explained that the business case for additional clean energy resources resonates with legislators and regulators on an environmental and economic level. She went on to underline that Ceres strives to remain a nonpartisan group to communicate the benefits of sustainability most effectively to an audience with varying political views. Further, Mackin explained that amplifying business voices has a lasting impact, as these key stakeholders pay significant taxes, employ local workers, and have sizeable footprints.
"Business involvement is fundamental to our theory of change. This has historically been a bipartisan avenue to advocate for policy change, and if a company employs a large portion of your community, decision-makers will likely be interested in listening to them," added Ceres Policy Communication Manager, Adam Vaccaro.
Policy Priorities in NC—Proactive Legislation & Partner Collaborations
The Ceres team shared several ways they have been actively engaged throughout the clean energy sector in NC. Implementation of the various provisions in House Bill 951 (HB 951) has been a top priority for Ceres. As such, the organization recently submitted a sign-on letter to the NC Utilities Commission in response to Duke Energy's proposed Carbon Plan to stress the importance of finding more effective pathways to achieve emissions reduction mandates outlined within HB 951. Additionally, Ceres has been actively engaged in encouraging clean transportation initiatives, including North Carolina's participation in the Medium-and Heavy-Duty Zero Emission Vehicle MOU and mobilizing states to adopt clean truck standards. 
A challenge in NC, explained the team, has been navigating the regulated monopoly utility structure. Ceres aims to provide more choices to consumers by advocating for clean energy access, direct-to-consumer EV sales, and infrastructure investment. The organization would also like to see expansion of consumer programs like the Green Source Advantage program. Current limitations set out by the investor-owned utilities have acted as a barrier for many corporations wishing to adopt more renewables at a faster pace.
In NC, Ceres has a range of members across industries that range from food to healthcare to technology and energy. Some notable members include Amazon, Biogen, Nestle, Siemens, and Unilever, to name a few. Many of these members have outlined strong commitments to clean energy adoption, as seen in statewide statistics that show 86 companies across NC that have already established a goal of being powered by 100% renewable energy.
Collaboration across state lines is instrumental to Ceres' success in advocating for strong clean energy and sustainability policies. As key policies take hold in states, members from other states or regions often take note and begin to advocate for similar policies within their own operating territory. These types of efforts are incredibly important to advancing opportunities for clean energy to corporations and investors across the country. Mackin also emphasized that relationships with partner organizations help them accomplish their goals, saying, "Advocates on the ground, like NCSEA, are crucial in supporting our work."
Learn more about Ceres and their efforts in North Carolina. Also be sure to register for Making Energy Work Conference taking place October 25-27 to hear the latest in the clean energy landscape throughout NC and the Southeast.