Ride Along with Chris Maxwell
Originally published in June 2021 - Clean Energy Storyteller. Coauthored by Janelle Martin and Chris Maxwell.
With last month's national gas shortage, the conversation regarding the importance of electric vehicles (EVs) is greater than ever before. According to Cox Automotive, the interest for EVs skyrocketed where 50% of consumers indicated they were suddenly more interested in EVs, and 36% were more likely to purchase an EV in the future. Going electric is attractive to shoppers from an environmental standpoint, but it's evident that rising gas prices may also have something to do with it. Due to several factors like education, minimal charging infrastructures, and financial costs, it'll still be a while before the majority of the population is driving electric cars. However, we can always count on EV enthusiasts to keep us afloat and encouraged.
North Carolina resident and NCSEA member, Chris Maxwell, is a prime example of how to use every day as a day to celebrate electric vehicles. Maxwell's dedication to the EV life is evident from his blog EcoDweeb, where he records his travel all over the nation via electric motorcycle and car. In total, Chris has four electric vehicles which include: a 2013 and a 2014 Smart Fortwo Electric Drive Cabriolet, a 2019 Audi e-tron, and a 2021 Energica EsseEsse9+ motorcycle (his preferred mode of transportation). The benefits of his new bike, he says, offer:
"[Being equivalent to] my motorcycle gas Ducati level performance with none of the maintenance costs. The fluids (motor coolant and brake fluid) are not expensive, tires are the single most expensive item, and that's universally true regardless of the powerplant of the bike. [Additionally,] not having a springtime tune-up in excess of $700 pays for itself quickly—it is literally unplug and go."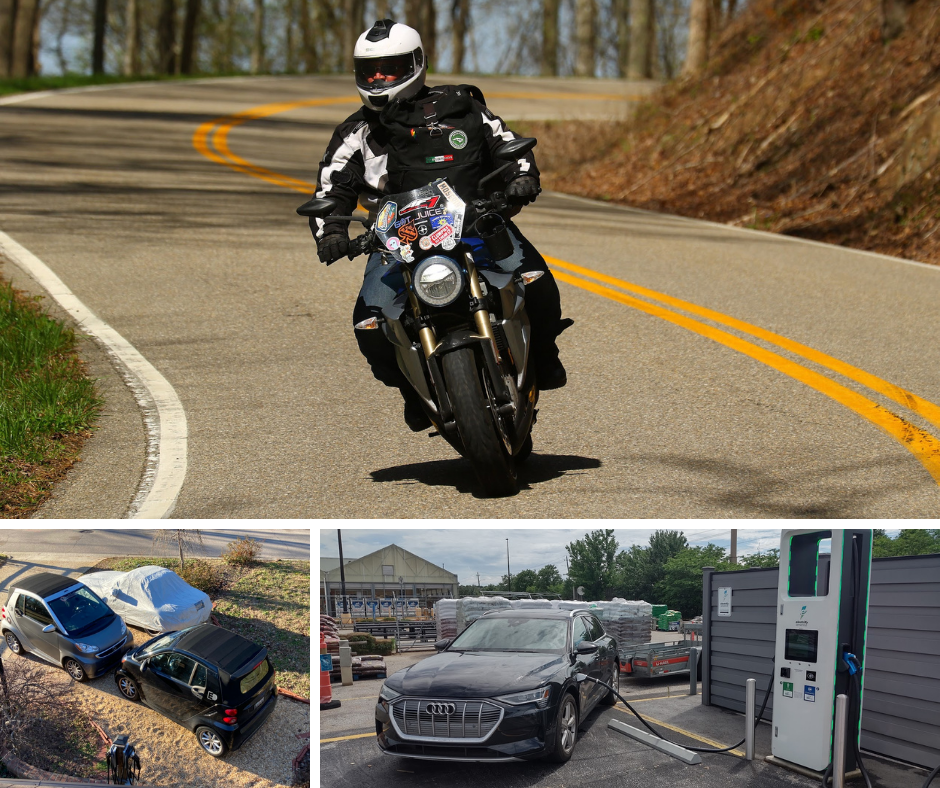 Doing 30,000-40,000 miles on the road in a given year, Maxwell appreciates the thousands of dollars he saves in fuel. He celebrates the fact that there are no oil changes, engine air filters, spark plugs, or emission control systems to maintain. And particularly when it comes to charging, at-home charging is free and efficient since his investment in solar five years ago. He says, "Last year I bought $112 in electricity for the entire year for home charging. [When it was] all said and done, we consumed 5.2MWh of energy at home last year, 4.2MWh of which came off my roof. Public charging was 5.1MWh, meaning that in all of 2020, my fleet consumed 10.3MWh of energy—half at home, half on the road." Chris also believes that the idea that 80% of home charging happens at home does not apply to active households.  In the future, mass adoption will influence more people to charge in public spaces while at work and doing routine errands.
Surely with all the benefits of owning an electric vehicle, it's easy to assume that very few challenges come with this lifestyle. Unfortunately, that is not the case. A recurring challenge Maxwell faces is public charging stations being blocked or out of service. He reflects, "I was nearly stranded in LaGrange, GA because the Tritium brand charger wouldn't start (the start button was worn out)—why does the charger even need a start button when the cable tells the machine the vehicle is attached properly?" Frustrated with the inconsistency in public charging defects and costs (evidently, some public charging stations charge by time connected while others charge by energy dispensed), Maxwell thinks this is a problem that could be solved at the federal level.
From Chris' experience alone, it's clear that the benefits in savings (whether in money, time, or both) across the board far outweigh the nuances that come with being an EV owner. And while now we witness plenty of electric cars on the roads here in North Carolina, we are certain there will be at least 80,000 by 2025, according to Governor Coopers Executive Order 80. As we press forward towards an electric vehicle future, it is very likely that we'll continue to hear more stories that impact the way we think about transportation and energy. For now, we can depend on Chris who will gladly take us for a spin.