A Squeaky Clean Conversation: Ep. 80: Aligning Customer & Utility Interests: Lessons from PG&E's Shortcomings 
On the 80th episode of the podcast, we brought on reporter Katherine Blunt from The Wall Street Journal to unearth the issues that arise when a utility neglects grid maintenance and community resilience in pursuit of profits. We covered how a series of regulatory and corporate missteps led to the deadliest wildlife in California's history. We then contextualized this situation for the grid and energy system in North Carolina and the southeast, where we face our own challenges with increasingly severe flooding and hurricanes.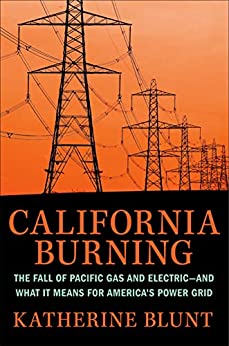 Background on Blunt 
Based in San Francisco, Katherine Blunt has been a prominent writer covering power, renewable energy, and utilities for The Wall Street Journal since 2018. Her coverage of Pacific Gas and Electric (PG&E) was a finalist for the 2020 Pulitzer Prize for National Reporting and earned her a Gerald Loeb award, the highest honor in business reporting. In 2022 Blunt released California Burning: The Fall of Pacific Gas and Electric - and What It Means for America's Power Grid. It describes how utility regulatory structures and incentives may have led to oversights that caused devastating wildfires in California, especially the November 2018 Camp Fire.  
Factors Sparking Disaster 
A series of very deadly and destructive fires occurred in California in 2017 and 2018, including the Camp Fire, the state's deadliest. More than 100 people tragically lost their lives from PG&E's powerlines, which ignited these fast-spreading wildfires. As a result, the utility owed about $30 billion dollars in liability costs and sought bankruptcy protection to sort through claims from homeowners and businessowners.  
Through her investigatory research, Blunt learned how multiple factors collided as kindling for the western wildfire crisis. Notably, she points to regulatory structures and incentives that led to massive safety oversights.  
An important factor is the way investor-owned utilities (IOUs) like PG&E make money. They profit from large capital investments that boost the overall value of systems they operate rather than day-to-day operations like inspections and replacement of small parts that can be vulnerable to failure. Minimizing expenses allows utilities to invest in capital, Blunt explained. While utilities can successfully balance profit margins and safety, PG&E did not make safety enough of a priority, according to Blunt. For instance, the Camp Fire ignited when a tiny hook that had been holding up a high-voltage wire broke. Inspectors had not looked closely enough to see the small part on the verge of failure.  
Blunt noted another major factor: an understaffed and underfunded California Public Utilities Commission, the state's regulating body. As a result, PG&E's practices in a wildfire-prone area lacked oversight.  
Moreover, worsening environmental conditions acted as the third factor leading to the devastation. Heat and severe drought created conditions for wildfire ignition. As flames quickly raced through communities with little warning, consequences – like lives lost and structures destroyed - were greater compared to past fires. The utility and regulators underestimated the risk of climate change by making decisions based on the past rather than future risks.  
Lessons for the Rest of the Country  
Outside of PG&E and California, utilities across the U.S. face tensions between costs and risk mitigation. Blunt explained that this struggle grows as electricity demand increases and the energy grid ages. Plus, increasingly severe weather can damage infrastructure that already needs improvement, like replacement of small parts.   
"Every utility company faces this challenge of balancing the expenses needed to maintain the system, specifically safety considerations, while also having the money needed to invest in capital to satisfy the shareholder base," explained Blunt.  
A relevant deregulation conversation is happening around Texas, where utilities also struggled to balance their needs for profit and risk mitigation. Since they profit from energy output, utilities were less interested in investing in a power plant in the event of a freeze. Consequently, the deep freeze in February 2021 led to millions of people without power and even the loss of life. The question is, according to Blunt, "How do you properly incentivize investments for contingencies that might have been very rare but that could become more frequent moving forward?" Finding the answer is important, as the discussions on effective market design in Texas are taking place throughout the country. 
While wildfires are less of a risk in North Carolina, utility issues can still result in inconvenient and dangerous outages that last for days. Podcast host Matt Abele added that North Carolina has its own natural disasters like hurricanes and flooding, which are risks for utilities.  
"The consequences of the failure are mounting," Blunt concluded. With more energy users relying on the grid, it's clear that utilities need to work to find the balance that ensures adequate protection as risks evolve. Blunt said potential solutions include using new energy sources that reduce the need for large infrastructure, strengthening regulatory oversight, and introducing cost-sharing with shareholders and customers. Moving forward, she also emphasized that our society needs to come up with new, creative ways for utilities to manage risks given the lack of current solutions in use.  
To learn more about utilities, risk mitigation, and the environment, read Blunt's book, California Burning: The Fall of Pacific Gas and Electric--and What It Means for America's Power Grid, and listen to the full episode of the Squeaky Clean Energy Podcast!