A Squeaky Clean Conversation: Episode 72: Cooperatively Electric – Addressing the Energy Burden in NC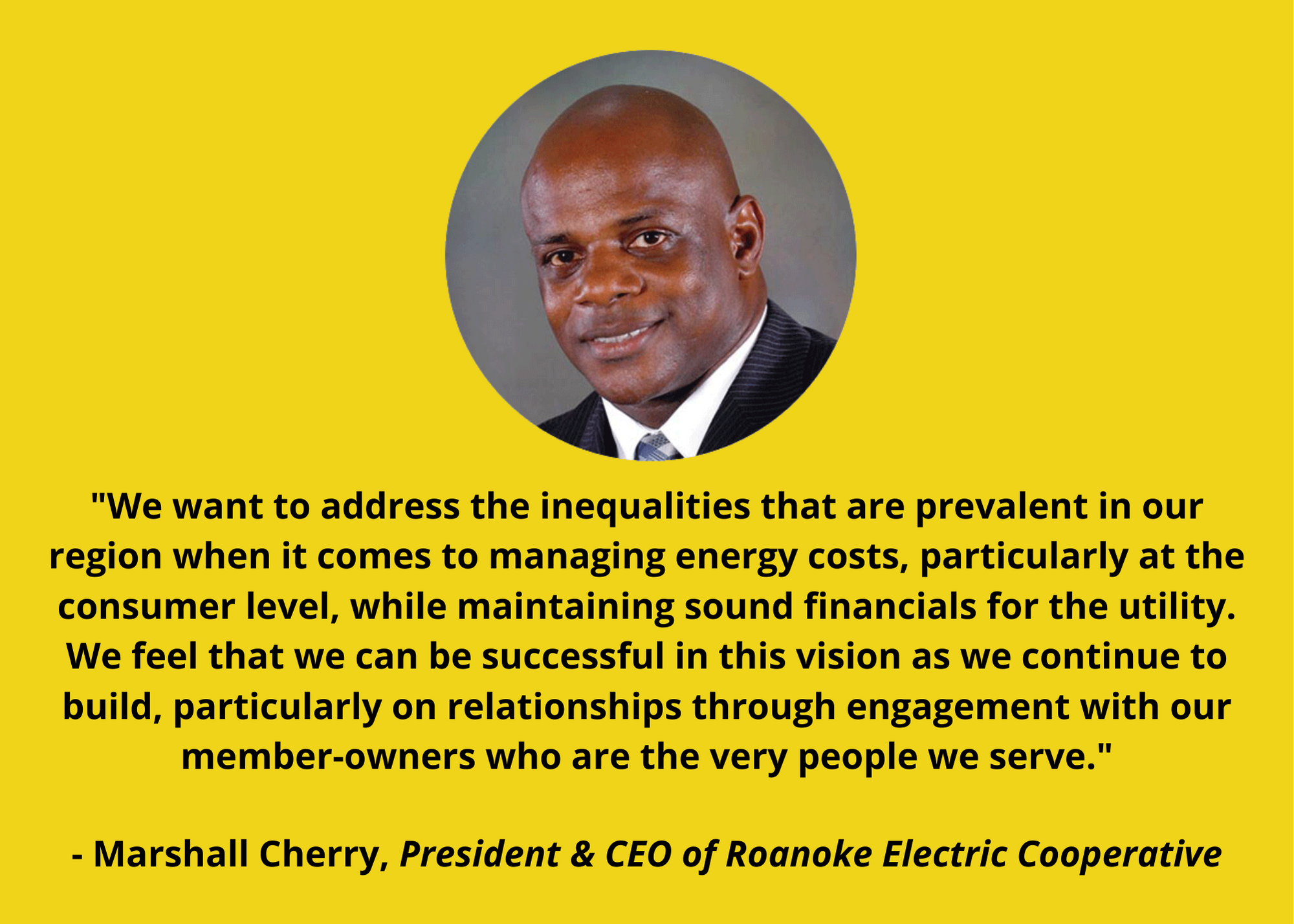 On the newest episode of the Squeaky Clean Energy Podcast, host Matt Abele sits down with Marshall Cherry, President and CEO of Roanoke Electric Cooperative, to discuss actions a utility can take to effectively expand access to clean energy and address the energy burden across our state.  
Addressing the Energy Burden 
Roanoke Electric Cooperative (REC) demonstrates the positive impact that utility-led initiatives can have in a community. REC remains dedicated to promoting equity and inclusion to empower its member-owners in one of the most economically distressed regions in the country. Located in northeastern NC, the area's low population density also leads to higher-than-average energy costs per person. This energy burden results in residents spending a disproportionate part of their incomes on energy for their homes and families. 
Marshall Cherry is attempting to change this paradigm. He has served the people of northeastern NC in his position with the cooperative for over 29 years, recently becoming CEO this past December. Under Cherry, Roanoke Electric Cooperative has established numerous programs to help people address the energy burden within the region. Some of these innovative programs include community solar and EV specific rates, leading to recognition as a national utility leader.
Vision 2025: Improving Quality of Life in Northeastern NC 
Roanoke Electric is spearheading change with Vision 2025, the co-op's multiyear strategy to help the region meet its unique needs in a quickly evolving energy landscape. Cherry explained: "We want to address the inequalities that are prevalent in our region when it comes to managing energy costs, particularly at the consumer level, while maintaining sound financials for the utility. We feel that we can be successful in this vision as we continue to build, particularly on relationships through engagement with our member-owners who are the very people we serve."  
One particular program that Cherry noted in this effort is Upgrade to Save, a tariff on-bill financing program, or a site-specific utility investment program, to help home occupants save on energy costs. This program allows customers to purchase much needed efficiency upgrades for their homes, while financing those upgrades through their monthly utility bill. "We feel that this program has lifted more inclusion in the energy finance space, ensuring that capital is available to more rate payers," said Cherry. He described three keys to success for the program:  
The capital

—

stemming mostly from government funding;

 

The recovery

—

the establishment of a tariff on the customer's bill until the

cooperative receives the entire initial investment; and,

 

The Pay As You Save Model

—

where

participants are cash flow positive within

the first month of the program after the investment.

 
Another program Cherry described on this episode of the podcast is the cooperative's electric vehicle home charging program, which initially started as a pilot in 2019.  
The cooperative learned that education is instrumental in helping individuals charge at the most cost-effective times and be comfortable with the investment. This program reduces the costs of owning an electric vehicle, especially when considering the higher upfront costs that too often exclude low-and-moderate income households from making an upfront purchase. Cherry noted that it is imperative to enable these individuals to experience the overall lifetime cost savings of electric vehicles and clean energy to avoid leaving the region further behind.   
Regarding the foundation of Roanoke Electric's programs, Cherry emphasized: "The people are the very folks who we serve, which sets cooperatives apart. In a nutshell, I feel that we are living out the principles of why cooperatives were started in the first place, back in the 1930s."  
Cherry shared that Roanoke Electric will continue to use data to drive investment decisions and improve systems to avoid capacity costs, ultimately saving more money.  
A Purpose-Driven Business Model 
NCSEA underlines the fact that utility and customer interests do not have to be at odds and that Roanoke Electric Cooperative is a shining example of how those interests can align. Effectively doing so enables a better quality of life for low- and moderate-income consumers while also advancing opportunities for growth within the utility business model. 
Listen and subscribe to this episode wherever you stream podcasts to hear the full conversation and learn more about Roanoke Electric Cooperative's work. Also, be sure to stay connected with NCSEA on Instagram, Twitter, Facebook, and LinkedIn.