A Remarkable Transformation: Utility-Scale Solar Set to Surpass Coal in North Carolina's Electricity Generation 
North Carolina's energy landscape is on the brink of a remarkable milestone as utility-scale solar emerges as a dominant force, poised to overtake coal in the state's net electricity generation. In this blog post, we explore the data behind this transformative shift, highlighting the impressive decline of coal and the ascending trajectory of solar in North Carolina. We also delve into the role of the Renewable Portfolio Standard (RPS) in driving renewable energy adoption and shaping the state's clean energy future. 
The Changing Tides: From Coal Dominance to Renewables
North Carolina's power generation landscape has experienced a seismic shift in the past two decades. In 2000, coal accounted for over 60% of the state's total electricity generation, reflecting its historical prominence as the primary energy source. However, the dynamics have evolved significantly since then, driven by concerns over air quality and emissions, policy initiatives, and advancements in renewable energy technologies. 
In addition, the economics associated with the declining costs of solar now make it the lowest cost form of energy, which has driven coal to become financially non-competitive. Factor that on top of significant supply chain disruptions and cost volatility throughout the pandemic, leading to the fact that coal now costs significantly more for ratepayers.  
This shift in economics has led to the retirement of some coal facilities already in North Carolina, with the rest of the fleet scheduled to retire by 2036 as evidenced in the chart below.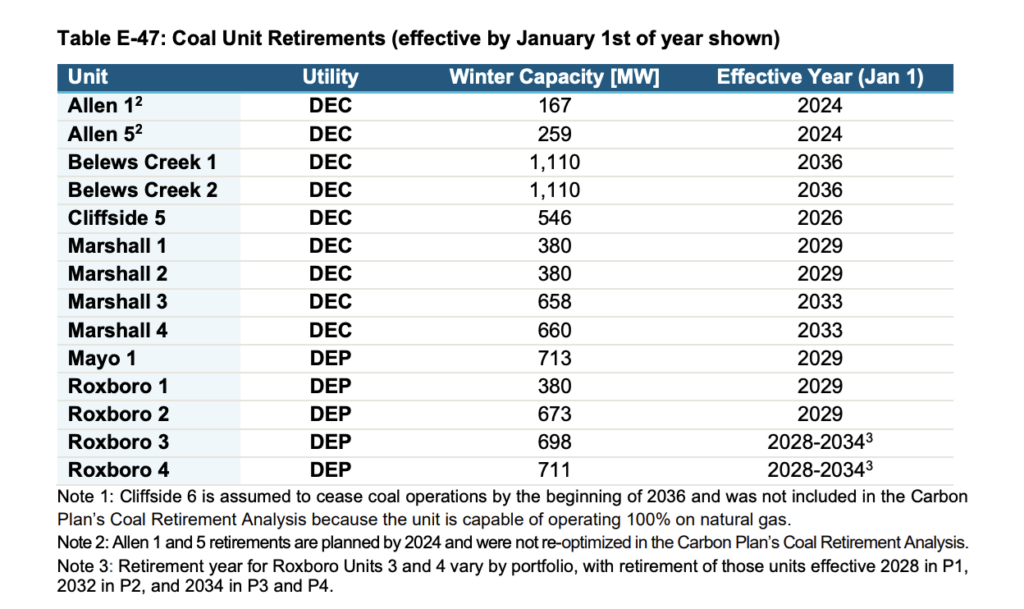 The Rise of Utility-Scale Solar
Utility-scale solar has emerged as a driving force behind North Carolina's transition towards a cleaner and more sustainable energy mix. In 2022, coal's share of total electricity generation dropped to 10.9%, while solar accounted for 8.5%—a notable increase from previous years. The increasing affordability (according to Lawrence Berkeley National Lab, PV costs have fallen 76% since 2010) and efficiency of solar panels, coupled with favorable state policies, have paved the way for solar to gain prominence in North Carolina's energy landscape. 
A Turning Point: Solar Surpasses Coal in Q4 2021
The data from Q4 2021 marks a significant milestone in this transition. Utility-scale solar surpassed coal in net electricity generation, with coal accounting for 5.5% and solar contributing 6.8% to the electricity generation mix. Since that period of time, we've seen a continued downward trend in coal generation, and an upward trajectory for solar, with the resource surpassing coal once again in Q3 2022 and Q4 2023. This achievement underscores the rapid growth and increasing significance of solar in North Carolina's power sector. 
The Role of the Renewable Portfolio Standard (RPS)
The Renewable Portfolio Standard (RPS) passed via Senate Bill 3 back in 2007 has played a crucial role in accelerating the adoption of renewable energy sources in North Carolina. The RPS mandates that a certain percentage of the state's electricity must come from renewable sources. In North Carolina, our standard mandated that by 2021, each public utility in the state shall ensure that 12.5% of retail sales are generated via renewable sources. In addition, the same policy required that electric membership corporations and municipalities provide 10% of their retail sales via renewable energy. This policy has provided a strong impetus for the development of utility-scale solar projects, driving investments and innovation in the sector. 
The RPS serves as both a catalyst and a guiding framework, ensuring that North Carolina continues to transition towards cleaner energy sources while diversifying its energy mix. By setting specific renewable energy targets, the RPS fosters a supportive environment for solar and other renewables, facilitating a sustainable and resilient power system. Combine the renewable portfolio standard with the state's interpretation of the federal Public Utility Regulatory Policies Act of 1978 (PURPA), which opened the door for project interconnections up to 5 megawatts in size with a 15-year power purchase agreement, and you have a perfect recipe for solar growth. And last, but not least, up until 2015, the state of North Carolina also offered a 35% renewable energy investment tax credit. 
A Clean Energy Future Beckons
This shift towards renewable resources in the state has brought with it numerous advantages, including billions of dollars in investments, thousands of jobs, and millions of dollars of new property tax revenue generated for rural counties across the state. In addition, this shift sets us on the pathway to reaching the goals set out in HB951 to reduce carbon emissions by 70% in the electricity sector by 2030, and to reach carbon neutrality by 2050.  
Challenges in the Way of Accelerated Growth
North Carolina's energy landscape is undergoing a remarkable transformation, with utility-scale solar on the verge of surpassing coal in overall net electricity generation. From coal's dominance in the early 2000s to the remarkable rise of utility-scale solar today, the state's commitment to renewable energy sources has been instrumental in driving this transition. However, it's important to note that there are some challenges that stand in the way of North Carolina continuing to be a leader in utility-scale solar deployment moving forward. In fact, we've seen in just the past few years, the state drop from number two in total solar deployed to number four. And in fact, according to the Solar Energy Industries Association, the state is expected to rank 30th in the nation for total solar deployed over the next five years, further dropping us down the leaderboard.  
These projections point to the real need for organizations like NCSEA to continue to advocate for solutions to transmission constraints and buildout, artificial limits placed on solar deployment by utilities, and challenges at the local level for permitting and siting.  
With all of that being said, though, solar on its own is one of, if not the most cost-effective generation solution available on the market today. Continuing to lean on the successes of the growth of solar will be critical to maintaining low utility rates for ratepayers, while ensuring a high degree of reliability. 
Overall, the data points from 2000 to 2022, and the recent Q1 2023 milestone, clearly demonstrate the declining role of coal and the ascent of solar. With the Renewable Portfolio Standard serving as a guiding force, North Carolina is well-positioned to continue its journey towards a cleaner, more sustainable energy future.