A Legacy Gift Leads to Solar at Asheville Buncombe Community Christian Ministry
Asheville Buncombe Community Christian Ministry (ABCCM) recently received a generous donation to pay for a solar installation at its Transformation Village for homeless women and children. The donation allows the ministry to save about $3,000 per month on its energy bills and put that money toward other initiatives to help people recover from homelessness. ABCCM is also making plans to install solar at its Veterans Restoration Quarters. We talked with ABCCM Executive Director Scott Rogers to learn more about the two solar projects.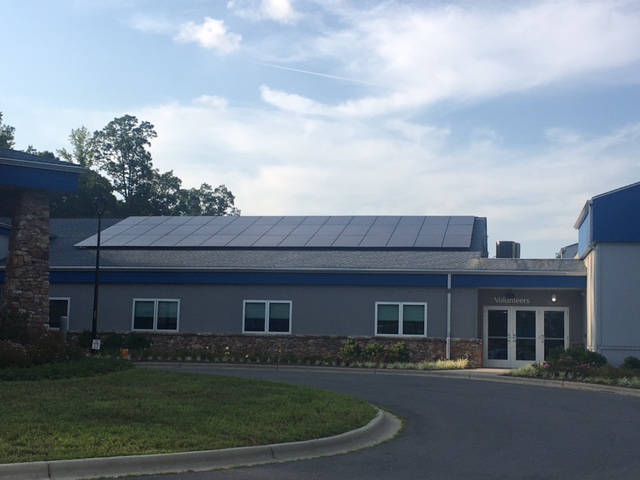 ABCCM is a nonprofit organization based in Asheville, North Carolina, and supported by over 300 churches and more than 4,700 trained volunteers. The organization aims to increase access to healthcare and reduce poverty, homelessness, and hunger in Buncombe County. The ministry has three sites that provide emergency and transitional housing: one for homeless women and children (Transformation Village), one for civilian men (Recovery Living Center at Costello House), and one for veterans (Veterans Restoration Quarters). The organization applies national best practices to help people experiencing homelessness move into permanent housing with stable jobs and incomes.
Transforming Energy Generation at Transformation Village
The 100 kW solar installation at Transformation Village was a result of many years of planning and intention. Rogers, who has led ABCCM since 1981, said the ministry had been considering solar for quite some time now.
The biggest concern for them was that it would take eight to 10 years to pay for a solar system while still having to fund services for the hundreds of homeless people they help each year. In fact, 94% of ABCCM's funding goes into direct services to help people recover from homelessness.
Rogers also mentioned that the advent of higher efficiency modules over the past few years was critical to designing a system large enough to power a 43,000-square-foot housing facility.
Solar was just a dream for ABCCM until they received an anonymous legacy gift to help them purchase the $230,000 solar system. The donors saw this gift as a perfect opportunity to help Buncombe County transition to clean energy and create an impact that will outlive them for years.
"It just seemed a little surreal that somebody would step forward with this kind of vision and forward thinking. They believed in the vision to have solar and were willing to fund it," said Rogers.
In addition to the generous donors, several partners contributed to the success of the project. ABCCM wanted an installer that was established in the community and that they could rely on for decades. Haynes Solar, a division of MB Haynes Corporation and a local Asheville company, was the right fit for the job and helped them successfully begin their solar journey.
Additionally, as ABCCM began the conversations around installing solar, they received support from their membership of 300+ congregations. Some pastors who had installed solar at their churches were able to advise ABCCM on what worked well. Moreover, some community members volunteered to apply their electrical engineering backgrounds. Rogers pointed out that other nonprofits may be able to use or develop similar community resources to install solar.
As a result of the system, ABCCM's Transformation Village power bill has been cut by about half for the next 20 years as the ministry saves about $3,000 on its $5,500 monthly energy bill. The savings are partially funding a planned 32-unit apartment to support homeless women and children.
More Solar on the Horizon Thanks to Federal Tax Incentives
ABCCM is not stopping with just Transformation Village for their on-site solar energy generation. They're already making plans to install a 242 kW solar system at their Veterans Restoration Quarters (VRQ), which helps veteran men recover from homelessness. The ministry recently approved a bid for $530,000 to install the panels. As the sixth-largest veterans' homeless facility in the nation, VRQ uses about twice as much energy as Transformation Village.
The anonymous donors have contributed the down payment on this project and will continue to support it through completion in 2024.
Rogers said he expects federal tax incentives to significantly help ABCCM reduce the cost of this new solar installation.
Directing Savings Towards Long-Term Impacts
This generous gift will provide decades of renewable energy generation and also help to reinvest in ABCCM's mission to continue to build successful futures for people who have experienced homelessness. Transformation Village and VRQ teach professional skills and help people engage in church and community organizations. The programs are so successful that 80% of the people served never return to homelessness.
Thanks to the donors, Haynes Solar, Duke Energy, volunteers, and federal tax incentives, ABCCM has been able to install solar for very little of their own investments while seeing significant savings on their utility bills each month. When a community works toward a common goal, nonprofit organizations can take a leading role in clean energy generation.
"We need more visionary donors who see ways to support long-term projects like this. It's another tool in the philanthropy toolbox. Legacy-giving can be done through solar," emphasized Rogers.