Miriam Makhyoun: Ushering in Data-Backed Solutions for the Electricity Market of Tomorrow 
We recently sat down with Miriam Makhyoun, CEO of EQ Research, to learn more about her career path in clean energy. This feature is part of NCSEA's celebration of Women's History Month and our ongoing initiative to elevate exemplary individuals across the clean energy community.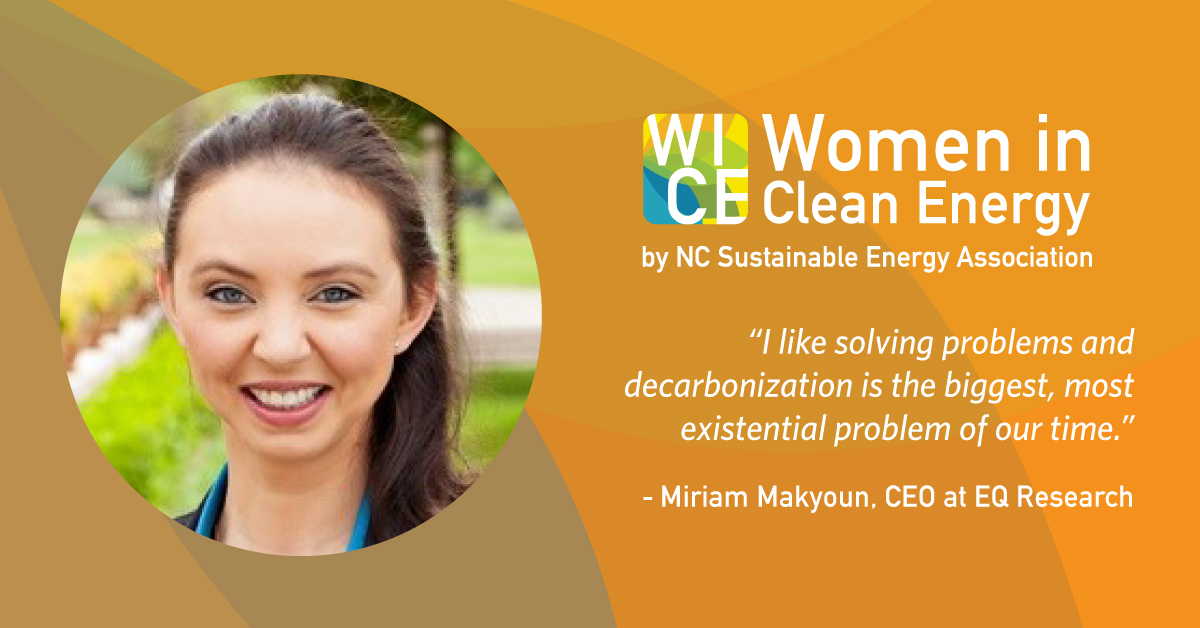 An Evolving Career in Cleaner Energy 
Miriam Makhyoun focuses on building effective, data-backed solutions centered around renewable energy. As the CEO of EQ Research, she leads a firm that offers state-level policy and market intelligence to the energy industry across the nation. In this capacity, Miriam interacts with leading renewable energy developers, retail suppliers, utilities, large energy consumers, electric vehicle (EV) manufacturers and EV supply equipment providers, national laboratories, and clean energy advocates to advance the evolution of the electricity market.  
At EQ Research, she leads a team of nine people who communicate up-to-date policy changes to clients by tracking legislation and monitoring regulation. Further, Miriam helps broaden the impact of EQ Research by offering services like consultation, Policy VistaTM subscriptions (a tool that tracks and analyzes regulatory proposals, state legislation, utility resource plans, and general rate cases), and serving as an expert witness before utilities commissions. 
During our discussion, she stated how dramatically the conversation around clean energy has changed over recent years. With more people talking about the importance of third-party data access, demand response, energy storage, hydrogen, and EVs, she is optimistic about the current groundswell that the industry is experiencing. What could this future look like? 
At the distribution level, she envisions a not-so-distant world where customers have more access to data and more options to source their electricity from on-site generation, resilient backup supply, community renewables, and green tariffs. At the transmission level, she hopes to see greater connectivity between electric systems and more transmission to enable offshore wind deployment, as well as increased market participation from battery storage and other types of storage. Finally, at the industry level, she imagines technological innovation for improved energy storage recycling practices, more plentiful and eco-friendly materials for batteries, and the mass deployment of green hydrogen generators and offshore wind turbines. 
The Spark from Coast-to-Coast 
Miriam grew up in western North Carolina but is also half-Egyptian. While attending Appalachian State University for undergraduate studies, she quickly became interested in clean energy financing. As a student senator, she co-authored a student government bill that enabled the Renewable Energy Initiative, a student-led, student-funded organization that seeks to install renewable energy and energy efficiency projects on campus. Miriam was inspired by the success of projects like the Broyhill Wind Turbine and after a few years living in Las Vegas where she worked for U.S. Senator Harry Reid, returned to Boone to pursue a double master's degree in business and renewable energy. 
She went on to publish a thesis on the lifecycle cost and benefit of using an automotive engine at small landfills to produce electricity (which she presented at several conferences that year). Soon after, Miriam took a job in market intelligence at NCSEA after a summer internship at Strata Solar.   
In 2013, Miriam helped NCSEA and the NC State University Clean Energy Technology Center (CETC) by co-facilitating the development of a Template Solar Ordinance to provide model siting rules addressing the needs of the solar industry and other stakeholders. 
"My experience co-facilitating the Template Solar Ordinance project with NCSEA and the CETC showed me the value of policy making at the local level," she said. "The importance of listening to and understanding what matters to people has stayed with me and I use that skill every day in my work." 
Following this experience, Miriam took a job with Smart Electric Power Alliance (SEPA) and moved to Washington, D.C. for a couple of years to develop cutting-edge research reports and engage with members across the country. In 2015, she moved to San Francisco, CA, to become a portfolio manager for the utility, Pacific Gas & Electric (PG&E), procuring and selling Resource Adequacy capacity and carbon compliance instruments. After her time with PG&E, Miriam joined MCE, California's first Community Choice Aggregation Program, as a Power Supply Contracts Manager. In this role, she negotiated deals with hydropower suppliers and managed MCE's energy storage request for offer process.  
Equipped with experience as an energy trader in California and her past conducting research at non-profits on the East Coast, Miriam returned to North Carolina in 2019 and took the job as EQ Research's CEO. She describes the position as her "dream job" because she gets to help clients achieve their decarbonization goals. 
Inspiring more Women to join the Clean Energy Movement 
Throughout her career, Miriam has observed the challenges that women face in the energy industry. She explains that she herself had imposter syndrome upon graduating from Appalachian State University. To confront this feeling, she made an intentional effort to overcome any doubts and join male-dominated clean energy conversations in a room. "Many people, including women, have been socially conditioned to be agreeable and compliant," she says. "Sometimes this gets in the way of being honest and moving things forward. To this day, I challenge myself to say what I mean and mean what I say in the kindest way possible." 
Miriam describes Julia Hamm, CEO of SEPA from 2004 to 2022, as a role model during the formative years in her career. She admired her straightforward communication style and her strategic way of addressing contentious issues by bringing all sides together to find solutions. Miriam remembers working for her in 2014 when Hamm was pioneering a project called "The 51st State." This project called on the electric industry to submit whitepapers envisioning the distribution grid in a new light. The goal of the project, Miriam explains, was to break the prevailing dynamic between opposing viewpoints and replace it with one based on a community committed to collaboration on optimal deployment of distributed energy resources (DER). 
Upon accepting the job as CEO at EQ Research, Miriam contacted Hamm to inquire about materials she recommended to prepare her for the new leadership role. Hamm recommended Patrick Lencioni's books, including, The Five Dysfunctions of a Team, which drove home the point that leadership team members need to be vulnerable and honest to be cohesive and clear to the rest of the organization. Miriam says that this book, as well as Hamm's professional and personal example, greatly influenced her leadership style.  
Advice to Budding Clean Energy Professionals and the Industry 
Miriam urges women entering the energy space to acquire coding or quantitative modeling skills to set themselves apart from the talent pool. She also recommends brushing up on public speaking by joining groups like Toastmasters to learn how to communicate using a beginning, middle, and end with 3-5 key points. Finally, she encourages individuals to become subject matter experts in topics that interest them to better connect with the right people at conferences and networking events. 
For larger organizations, Miriam said having a woman-focused Employee Resource Group to host talks, book clubs, and provide access to a network of other women can help to make women feel encouraged and supported. For companies of all sizes, Miriam recommends casting a wide net during employee searches to attract applicants from a variety of backgrounds.  
Lastly, she says individuals can support women in energy by inviting the women in their lives to attend networking events, sending them articles or podcasts of interest, and participating in initiatives like NCSEA's Women in Clean Energy (WICE).