Susan Munroe: Engaging with Local Communities to Advance Renewable Energy 
We had the chance to sit down with Susan Munroe, Community Engagement Manager of Offshore Wind Carolina Long Bay at TotalEnergies, to learn about how she's engaging local residents across the state in the clean energy transition. This feature is part of NCSEA's celebration of Women's History Month and our ongoing focus on elevating exemplary individuals across the clean energy community.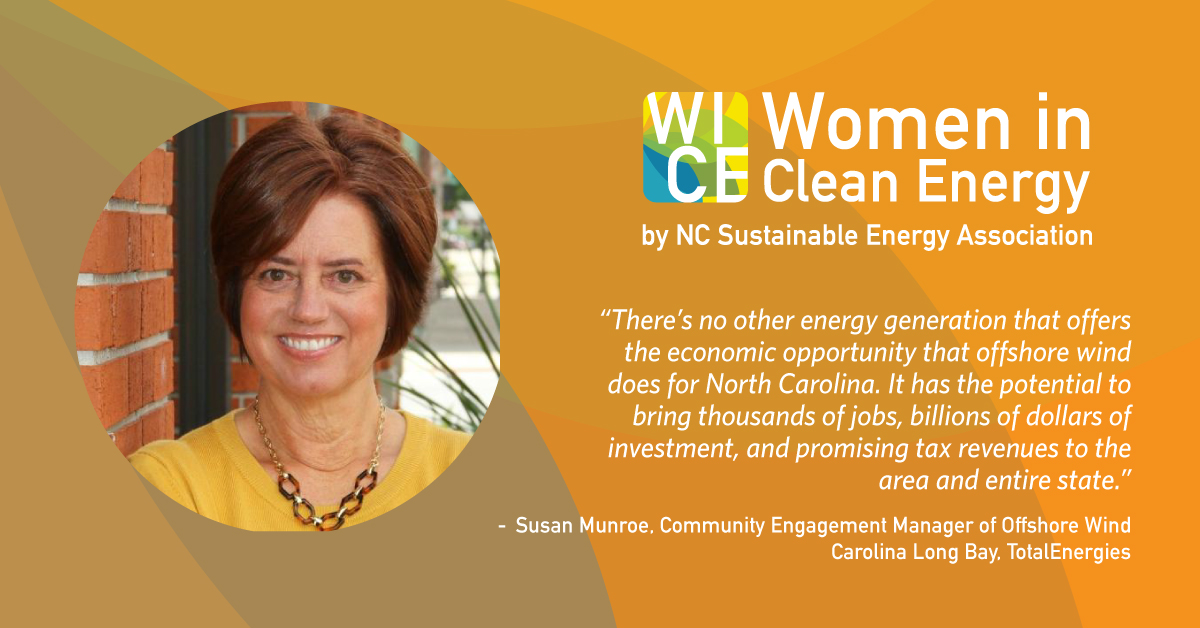 Engaging with Local Communities 
Susan Munroe has dedicated her career to discovering ways to connect with diverse sets of stakeholders. She recently took a new step in this space by joining TotalEnergies as their Community Engagement Manager for the Carolina Long Bay Offshore Wind Project. In this role, she reaches out to and coordinates with local residents, students, educators, chambers of commerce, economic and workforce development groups, and elected officials to provide information and education on the benefits of the Carolina Long Bay offshore wind project. 
In this new role, Susan brings a whole host of experience from her professional past stemming from serving as President and CEO of the Van Wert Area Chamber of Commerce in Ohio to Deputy Director for the nationwide organization, Chambers for Innovation and Clean Energy (CICE). With CICE, she focused on providing the tools and resources to chamber directors and economic development leaders in North Carolina, West Virginia, Ohio, Wisconsin, and Minnesota to help them retain and grow clean energy opportunities. This motivation is rooted in the benefits clean energy brings to a region, including additional tax revenue and good paying jobs.  
Given the fact that Susan was born and raised in North Carolina, she's especially excited about the opportunity to serve the Carolinas in this new position with TotalEnergies. "We have so much to do and we're only at the very beginning," she emphasized. "There is work to be done locally, statewide, and nationally and I look forward to being a resource for stakeholders to make a positive impact on my community." 
When asked about why she is excited for the future of the industry, Susan said, "There is simply no greater opportunity for economic impact in rural communities than what is presented by renewable energy. Clean energy, like wind and solar, is making a positive difference in the lives of children, teachers, residents, farmers, and small business owners across North Carolina." 
Lessons learned from around the Nation 
Susan works to create common ground and a cohesive vision to achieve a robust clean energy economy and future. Further, the opposition faced in her professional roles has refined her ability to overcome adversity. "Understanding opposition and fear tactics enables us to better grasp the dynamics of how misinformation is disseminated," she said. "I've seen it in action, and this has only helped me better communicate accurate information and the benefits of a renewable energy project with elected officials and all stakeholders." 
In light of industry momentum with investments from the Bipartisan Infrastructure Act and Inflation Reduction Act, Susan identifies two areas that pose possible barriers to achieving the nation's clean energy goals: 1.) transmission and grid-modernization considerations, and 2.) the negative impacts of opposition at the local and state level as a result of misinformation. Susan prioritizes listening to the community and educating stakeholders with accurate information about clean energy to help TotalEnergies Carolina Long Bay project overcome these challenges. 
"It's essential to start with education," she said. "First and foremost, we need to answer questions like: 'What is a megawatt, how does energy travel from offshore to land, and why does it matter to me?'" 
Susan also highlights how states with the strongest bipartisan leadership in clean energy can reach their targets faster and more effectively. Because of this, she hopes that the Southeast and beyond can continue to find ways to help clean energy transcend political boundaries. Successfully doing so, she explains, will allow us to look at things in terms of their potential to create energy diversity and security, as well as economic and supply chain development, rather than political alignment. 
She is confident that offshore wind will succeed in North Carolina as a result of bipartisan political support and favorable environmental factors. "There's no other energy generation that offers the economic opportunity that offshore wind does for North Carolina," she stated. "It has the potential to bring thousands of jobs, billions of dollars of investment, and promising tax revenues to the area and entire state."  
Susan says that the Carolina Long Bay project will help diversify the state's energy portfolio and lead to a stronger, more resilient grid. She also underlines that the counties immediately adjacent to the project like New Hanover, Brunswick, and Horry won't be the only ones to benefit. In fact, investments of this scale are set to be a big economic boost for the entire region. Offshore wind can create, as Susan describes them, "family-sustaining, mortgage and tuition-paying, sitting around the kitchen table- types of jobs." 
Inspiring More People to Join the Energy Conversation 
When asked about where she looks for inspiration, Susan says that her mother was her biggest advocate from the start. "She made me believe that I could do anything," she recalls. "I have seen many women take center stage in the clean energy space in recent years and I am looking for ways to continue to spread inspiration and encouragement." 
She also remembers being influenced by the co-founder of CICE, Diane Doucette, formally with the San Francisco Chamber of Commerce. "My time with CICE provided me the opportunity to be in the spotlight as a local and national clean energy advocate— that experience really helped catapult my career," she said. Though she explains that the list of inspirational women in clean energy is long, Secretary of Energy Jennifer Granholm, Katherine Kollins from the Southeastern Wind Coalition, and Machelle Baker Sanders from the NC Department of Commerce have done a phenomenal job leading the nation's and state's clean energy push in recent years. Susan also emphasized that though we have made significant strides, there is still a long way to go. 
"Women have achieved so much in clean energy over the years, but in terms of including all communities of colors and cultures, the industry has much work to do," she stated. "We need to be intentional and lean in on our efforts with diversity and inclusion to make the energy transition more just and equitable." 
Susan encourages budding professionals and longtime clean energy advocates alike to join mentorship and information-sharing programs like NCSEA's Women in Clean Energy initiative. Further, she believes that it is important for organizations to spotlight the accomplishments of women to help develop the next generation of industry leaders while also inviting other motivated people to the conversation. 
"Don't underestimate or think that you're not qualified, because renewable energy development requires an all-hands-on-deck approach to be successful," she says. "So, whether you are focused on finances, the environment, corporate communications, engineering, or something else, a diversity of backgrounds is necessary to build success for clean energy development." 
A Favorable Wind is Blowing 
Susan is excited about the future of renewable energy and offshore wind in North Carolina and beyond. Just as solar prices have continued to plummet over the past decade, she noted similar parallels are taking place in the offshore wind industry (with its levelized cost of energy dropping 13% in 2021).  
"Just like in other renewable energy resources like onshore wind, solar, and EV batteries, the cost for offshore wind is dropping while the technology is improving," she explains. "Ever-increasing technological innovations and renewable energy's overall community development potential makes me extremely excited about what is to come!"