Member Highlight: Sierra Nevada Brewing Co Leading the Way for Sustainability and Energy Efficiency  
This article features NCSEA member, Sierra Nevada Brewing Co, and a look into a few of its industry leading sustainability/clean energy initiatives in Mills River, NC. Innovation and quality have remained at the core of Sierra Nevada's business model as part of its 40 plus year history. This continual pursuit of innovation has also led to initiatives that lessen their environmental impact, from on-site renewable energy generation to state-of-the-art closed loop designs. NCSEA and its partners (Asheville Chamber of Commerce, Chambers for Innovation and Clean Energy, and local legislators) took a trip to the brewery earlier this fall to learn more about the intersection of craft beer, clean energy, and community engagement in the mountains.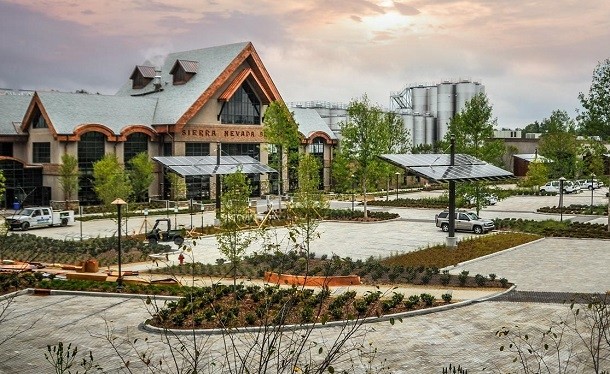 Craft Beer and Clean Energy in the Mountains  
The clean energy future of North Carolina requires the collaborative effort of businesses, municipalities, universities, and individuals across the state. One sector that has been quick to embrace the benefits of clean energy has been the brewing industry. Our state boasts nearly 400 of them, from out-of-the-garage-style microbreweries to larger, national players. These resource intensive operations have amplified their investments in clean energy to lessen environmental impact, satisfy environmentally conscious customers, and reduce operating expenses. Sierra Nevada Brewing Co is a prime example of a business successfully supporting NCSEA's advocacy and economic development efforts to spur a lasting clean energy transition.  
The Roots of Sierra Nevada  
Sierra Nevada was founded by Ken Grossman in Chico, CA in 1980. Back then, the nascent brewing industry consisted of just about forty breweries, a market that has since skyrocketed to over 9,200 breweries and valued at $100.2 billion. This movement can largely be attributed to the innovative, hop-forward styles of beer that were being released by Grossman and his hand-built brewhouse in northern CA. Over forty years later, Sierra Nevada remains an independent, family-owned craft brewery attempting to brew cutting-edge styles of beer and other beverages that redefine the impact of an operation on the planet.  
"We brew the beers we like to drink with a strict eye toward the environment. It's no secret that beer production is demanding on natural resources, so wherever we can lessen or eliminate our impact, we'll make that investment," explained Grossman in an interview with Forbes.   
Sierra Nevada was guided by this ethos when it constructed its second location in Mills River, NC, nestled in the Blue Ridge Mountains. It opened its doors in 2015 and became North America's first USGBC LEED Platinum production brewery a year later. This was a result of a "best-in-class" detailed planning and design process learned from the decades of renovation and expansion at the Chico brewery.
Today, Sierra Nevada implements sustainability initiatives through improving operational efficiency and on-site renewable energy generation. The brewery encourages a culture of sustainability through constant education, training, and encouragement. Industry collaboration and third-party verification also play key roles in strengthening transparency and accountability that lessen environmental impact. The company was the first business to achieve Platinum TRUE zero waste certification and holds other accolades from Audubon International, Oregon Tilth, Bee Friendly Farming, and Salmon Safe.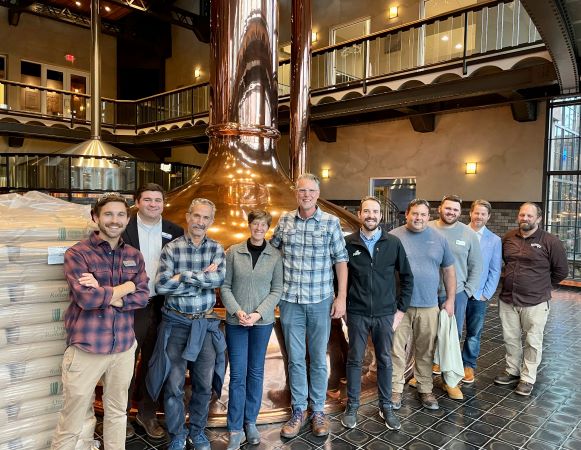 Sustainability steeped throughout the Brewery  
Spending time in nature instilled a sense of responsibility in Ken Grossman long before the inception of Sierra Nevada. As such, a dedication to grow the positive environmental, social, and economic impacts within the community was embedded into the company's culture in both CA and NC. Some notable initiatives include:  
On-Site Renewable Energy Generation
Solar

-

Across both brewery locations,

Sierra Nevada boasts the largest solar array in craft beer with a total of 2.6 megawatt

s

(MW)

.

The 600 kilowatt (kW) solar array

installed in Mills River provides

about 6% of the facility's electrical demand. The brewery also purchases renewable energy credits (RECs) to offset electricity they still need to purchase from the grid and leverages its partnership with organizations like NCSEA to advocate for the expansion of clean energy

programs and es that want to invest in onsite, renewable generation. 

 
Due to higher electricity costs and early regulatory incentives, most of the company's solar (2 MW) is found on the rooftop of its Chico brewery. On a sunny day, the facility can also send its excess electricity to a 500 kW Tesla battery system. Sierra Nevada reports that reducing spikes in electrical grid demand has dramatically reduced utility costs and bolstered the reliability of its energy generation portfolio.   
Capstone microturbines—

State-of-the-art anaerobic digesters at both locations remove organic matter from production wastewater. This lightens the load for municipal water treatment plants while producing a methane-rich biogas. In Mills River, the biogas is used to create electricity through two, 200 kW microturbines and in Chico, biogas helps offset the natural gas used in their boilers.

 

 
Operational Efficiency  
Closing the loop—

As the industry saying goes, 'the easiest kW of energy to save is the one not used in the first place.' The LEED Platinum facility in Mills River is an example of this mantra being put into practice. Sierra Nevada reports that its energy efficiency and heat recovery programs in Mills River have led to a 50% energy cost savings when benchmarked against and standard brewhouse.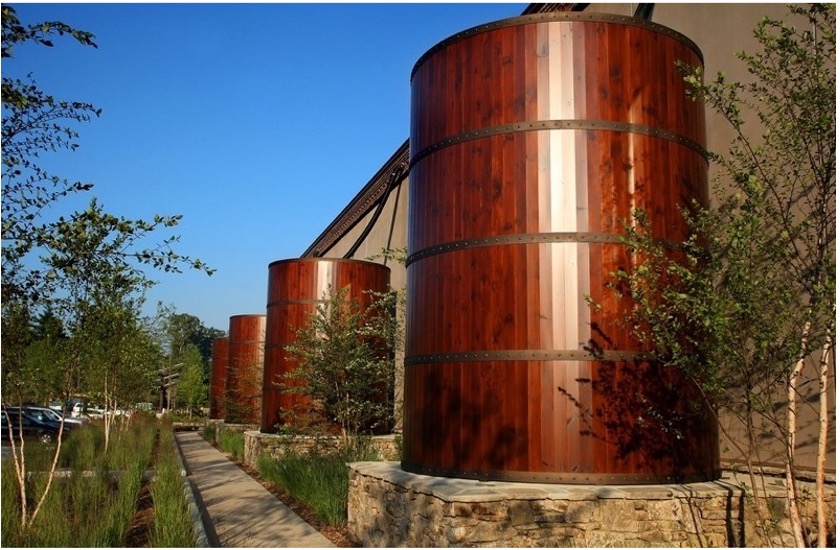 Stormwater—

Compared to Chico, which is increasingly facing longer and more frequent drought

s

, Mills River receives an abundance of rainwater. To take advantage of this, Sierra Nevada installed 12 above ground cisterns capable of holding 6,500 gallons of rainwater to be used for indoor plumbing

and irrigation

. Additionally, there are 2.58 acres of permeable pavers in the parking lot and a series of bioswales. This prevents unnecessary runoff and allows rainwater to flow to an underground cistern (450,000-gallon capacity). This then makes its way to the French Broad River via

an

engineered streambed and settling ponds, reducing erosion and sediment pollution. 

 

 
Carbon dioxide recovery—

Sierra Nevada captures CO2, a natural

byproduct

of on-site fermentation, and uses it around the brewery for

purging tanks, transferring beer, and in packaging operations.

 

This is y

et another example of 'closing the loop'

to

avoid venting excess gas into the atmosphere, while also reducing operating expenses and the number of trucks on the road

delivering CO2

.

 

 
Reduce, recycle, and waste diversion—

While the Mills River brewery was being constructed, 81% of materials used during construction—metal, cardboard, wood, plastic, and concrete—were diverted from landfills through reuse and recycling practices. Shortly after, Sierra Nevada also went on to gain a

TRUE Zero Waste Platinum Certification

for the 9,453,000 square foot facility by achieving a 98.9% diversion rate.

Sierra Nevada

focuses on upstream management to take a comprehensive approach to recycling and composting. Further, spent grain from the brewing process is sent to local farmers to be used for feed.

 

 
Transportation  
Electric vehicles (EV)—

Sierra Nevada provides on-site EV charging for employees and customers at both breweries. The ENERGY STAR Level 2 and 1 DC fast charging stations avoid 31,218 kilograms of greenhouse gas emissions annually. As the EV market grows, it plans to support efforts to be part of a nationwide charging corridor.

 

 
Rail spur & fleet solutions—

Brewing requires a constant inflow of raw ingredients

, especially malted barley

. Sierra Nevada constructed a rail spur in Fletcher, NC, located just a few miles from the brewery, to offload bulk malt. This is important as one railcar is equivalent to approximately four truckloads. The brewery has also been looking into fleet electrification solutions for the future. 

 

 
Alternative transportation—

The company is a

Certified Silver Bicycle Friendly Business

, with ample bike parking spots at both breweries made from retired kegs. It also incentivizes its employees to carpool or bike to work to encourage them to reduce their own transportation footprint.

 

 
Advocacy and Policy Moving Forward with NCSEA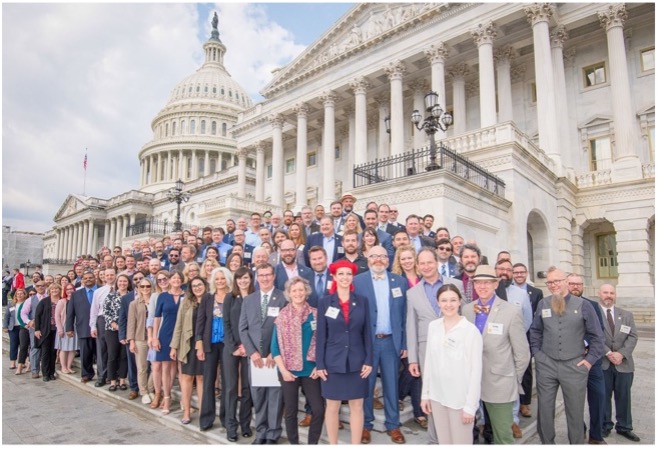 Sierra Nevada hopes to inspire others to increase sustainability commitments by letting their actions speak for itself. NCSEA and Sierra Nevada are aligned in their collective goal of decarbonizing various facets of the economy. In fact, the brewery has been directly involved in clean energy advocacy here in the state of North Carolina. Recently, they signed on to comments filed by Ceres to the NC Utilities Commission in regards to the NC Carbon Plan process. The letter called for a more aggressive pursuit of House Bill 951 mandates to achieve 70% carbon reduction by 2030 and carbon-neutrality by 2050, expressing concerns with Duke Energy's proposed pathways.   
At the federal level, the brewery joined a group of nearly 50 large consumer and industrial businesses signing a letter that called for more ambitious clean energy and advanced manufacturing investments through the Infrastructure and Investment Jobs Act. This push to invest in a clean energy economy came to a head most recently with Sierra Nevada and other leading companies with operations in NC like Cypress Creek Renewables, AVANGRID, Unilever, Schneider Electric, and VF Corporation sending a Business Support Statement to Congress. The Inflation Reduction Act was subsequently passed earlier this year, marking the largest climate investment in US history.   
"We're leveraging our voice and the power of our company to advocate for the things that align with our values," explained Mandi McKay, Sierra Nevada's Director of Sustainability and Corporate Responsibility. "We've invested heavily in operational efficiencies and sustainability initiatives within our brewery walls. Helping to also drive systems-level change is an extension of that internal philosophy, but we're ready to take it to the next level."   
Sierra Nevada is part of a growing number of businesses in North Carolina making significant investments in clean energy. To date, there are over 1,224 business-owned renewable energy projects in our state and 86 companies who have set 100% renewable energy goals. NCSEA is proud to tell the success stories of our members and is eager to see what other sustainability initiatives Sierra Nevada and partners have brewing for the future!